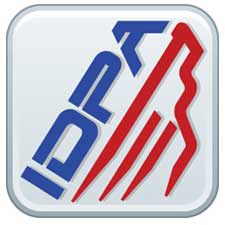 BERRYVILLE, Ark. –-(Ammoland.com)- Officials with the International Defensive Pistol Association today announced that Wilson Combat, one of the most recognizable names in the manufacture of fine custom-built 1911 pistols, has joined the growing list of sponsors for IDPA's 2012 National Championships taking place September 19-22 in North Carolina.
"If there is one name that's synonymous with IDPA and the sport of defensive pistol shooting then it is Wilson Combat. IDPA and Wilson Combat have a long and close relationship with both having been founded by Bill Wilson, and today that relationship continues with the company's generous, and continued sponsorship, of IDPA's National Championships," said Robert Ray, membership and marketing director for IDPA.
Wilson Combat joins ACADEMI, Comp-Tac Victory Gear, CrossBreed Holsters, CZ-USA, GlockTriggers.com, the National Shooting Sports Foundation, Smith & Wesson, and Woolrich Elite Series as a gold level sponsor of the match. Wilson Combat will be represented at the IDPA Nationals by shooting team members Eric Fuson, Greg Martin and defending CDP champion Glen Shelby. As part of their sponsorship Wilson Combat will host a hospitality suite during registration, as well as a demonstration bay on the range for competitors to test fire Wilson Combat firearms.
"Wilson Combat is a strong proponent of the shooting sports sponsoring several matches around the country, but it's safe to say that the IDPA Nationals is our favorite match of the year. Wilson Combat has been involved in the match since day one and will always be a part of this great and challenging competition. With so many IDPA competitors using a Wilson Combat 1911 in competition, the IDPA Nationals represents one of our best opportunities for customer feedback on how our pistols perform under pressure," said John May of Wilson Combat.

The IDPA National Championships will take place at The Range in Oxford, N.C. As the pinnacle event of the IDPA competitive season, the match will draw more than 300 top shooters vying for the coveted title of National Champion in Custom Defensive Pistol, Enhanced Service Pistol, Stock Service Pistol, Stock Service Revolver and Enhanced Service Revolver, the five divisions in IDPA competition.
Fore more information, or to get started in this fun and exciting defensive pistol shooting sport, visit www.IDPA.com. You can also follow @OfficialIDPA on Twitter, like ShootIDPA on Facebook, watch IDPA TV, or check out the Down Zero Blog to keep up with the latest news.
About International Defensive Pistol Association:
Founded in 1996, the International Defensive Pistol Association is the international governing body for IDPA competition which offers shooters a fun, safe, and challenging format to practice and test their gun handling skills through defensive-based scenarios. Today IDPA stands as the fastest growing shooting sport in the United States with over 20,000 members from all 50 states and 54 foreign countries. IDPA's 321 affiliated clubs offer weekly and monthly matches as well as host major championships.