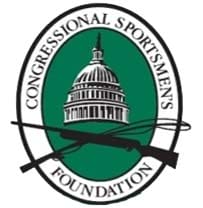 Washington, DC –-(Ammoland-Congressional Sportsmen's Foundation President Jeff Crane continued his leadership on conservation issues last week as he attended the American Wildlife Conservation Partners (AWCP) meeting in Missoula, Montana.
Beginning in 2001, AWCP meets twice a year and every four years, concurrent with the presidential election cycle, drafts recommendations for the incoming administration. Crane joined representatives from 35 of the 42 AWCP member organizations to help chart the course for the future of wildlife conservation in the United States.
Co-Chair of the Congressional Sportsmen's Caucus Senator Jon Tester sent a staff member to join Crane in highlighting the current bipartisan legislative priorities for sportsmen and women. The presentation encouraged AWCP members to contact their Congressmen and request their support for the inclusion of the proposed Sportsmen's Act of 2012 as an amendment to the 2012 Farm Bill. The Sportsmen's Act of 2012 includes a number of legislative priorities that are important to the sportsmen's community and have been moving in the 112th Congress.
The AWCP is committed to building unity among partner organizations and increasing collective effectiveness by primarily focusing on policy decisions made at the national level. Click here to visit the AWCP website.
About:
The Congressional Sportsmen's Foundation celebrated its 20th anniversary in 2009. Throughout this time, CSF has maintained a singleness of purpose that has guided the organization to become the most respected and trusted hunting and fishing organization in the political arena. Visit: www.sportsmenslink.org