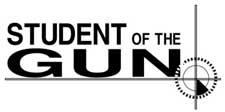 LUVERNE, AL –-(Ammoland.com)- In our studio this week we have one of the stars of the new (revisited) movie Total Recall. One hint; it's not Colin Farrell. You have to tune in to find out.
We take a close look at one of the most coveted rimfire pistols on the planet: the Kel-Tec PMR30 in .22WMR as well as some optics you can mount on the gun.
Shooting isn't just for the guys. During our new Spotlight segment we take a look at some hardware and accessories for the ladies in the audience. And yes, much of it is indeed pink. Finally, we consider a less expensive but still powerful alternative to the 5.56mm carbine for both indoor and outdoor practice.
All of the new episodes of Student of the Gun will be available for instant viewing by simply going to http://www.studentofthegun.com.
"During the first two seasons we were constantly asked if our shows were available online. For SOTG 3.0 we will be putting each and every one of the 26 new episodes online for all to see." said Paul Markel host and producer. "The feature episode for each week will be up for viewing each Tuesday evening."
Paul Markel c 2012
Follow Paul Markel at Student of the Gun.com .