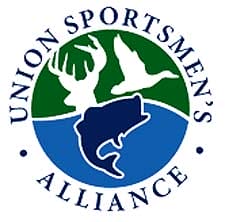 Nashville, TN –-(Ammoland.com)- The American worker and sportsman will be honored for his/her community spirit and volunteerism during the 2nd annual Brotherhood Outdoors Labor Day marathon, which will feature eight back-to-back episodes airing from 1 to 5 p.m. ET. on Monday, September 3 on Sportsman Channel.
A collaboration between the Union Sportsmen's Alliance (USA), Sportsman Channel and Bank of Labor, this one-of-a-kind marathon will give viewers an intimate glimpse into the lives of these hardworking, blue-collar characters as they set out on a dream North American hunting or fishing trip or choose to show off their skills as guides—taking viewers to their favorite honey holes.
"Brotherhood Outdoors isn't just a great hunting and fishing series but a true testament to the American spirit," said Sportsman Channel CEO Gavin Harvey. "We are excited to once again show American workers they have a home at Sportsman Channel—not just during Labor Day, but every day."
Between episodes of Brotherhood Outdoors, Sportsman Channel and the USA will pay tribute to the men and women who are working to make America not only a better place to live and work but a better place to pursue their outdoor passions. Throughout the day, viewers will meet everyday heroes who are working to preserve North America's wildlife habitat, protect public access to quality places to hunt and fish and educate a future generation of sportsmen and women.
Episodes Airing on September 3 include:
1 p.m. Texas Whitetail with a Steamfitter
1:30 p.m. California Hog with an Ironworker
2 p.m. Montauk Stripers with an Electrical Worker
2:30 p.m. Kansas Geese with a Machinist
3 p.m. Montana Whitetail with an Operating Engineer
3:30 p.m. Michigan Pheasant with a Firefighter
4 p.m. Montana Elk with an Electrical Worker
4:30 p.m. (NEW!) Idaho Mule Deer with a Refrigeration Fitter
"There are so many sportsmen and women in the union community who are doing amazing things to further conservation efforts throughout North America," said USA Executive Director Fred Myers. "I can't imagine a more perfect day than Labor Day to honor and reward that commitment."
A staple in Sportsman Channel's 'Made in America' programming, Brotherhood Outdoors is presented by Bank of Labor and sponsored by the following union and contractor partners: International Association of Machinists and Aerospace Workers, International Brotherhood of Boilermakers, International Brotherhood of Electrical Workers, National Electrical Contractors Association, International Association of Sheet Metal, Air, Rail and Transportation Workers and United Association/International Training Fund.
For more information about Brotherhood Outdoors, the Union Sportsmen's Alliance or Sportsman Channel, visit www.BrotherhoodOutdoors.tv.
About the Union Sportsmen's Alliance:
The Union Sportsmen's Alliance (USA) is a Union-dedicated outdoor organization whose members hunt, fish, shoot and volunteer their skills for conservation. The USA is uniting the union community to expand and improve hunting and fishing access and wildlife habitat throughout North America. For more information, visit www.unionsportsmen.org or www.facebook.com/unionsportsmen.
About Sportsman Channel:
Launched in 2003, Sportsman Channel, along with Sportsman HD, is a television and digital media company fully devoted to the more than 82 million sportsmen in the United States, delivering entertaining and educational programming focused exclusively on hunting, shooting and fishing activities. Sportsman Channel reaches more than 31 million U.S. television households and is available in HD (http://sportsmanhd.com). Visit www.thesportsmanchannel.com or follow on Twitter, @SPORTSMANchnl.