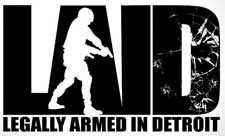 Detroit, Michigan –-(Ammoland.com)- Gun rights event in Detroit to feature three nationally prominent advocates of the Second Amendment.
"Legally Armed in Detroit," a Detroit based community safety and gun rights advocacy organization is organizing its 2nd Annual Open Carry Dinner on Monday, August 13th. The purpose of the annual event is two-fold – to educate the general public about the legality of Open Carry in the state of Michigan and to provide a venue for local gun rights supporters to show their support for the Second Amendment.
The event's organizer, Rick Ector of Detroit, feels that events such as this dinner are very important to support. He stated, "Gun rights are continually under assault by individuals and organizations who are not above exploiting national tragedies, such as the one which recently unfolded in Aurora, Co. As such, there is a clamor being created by certain elected officials in our government to enact more gun control legislation."
Issues being publicly debated today include another so-called Assault Weapon Ban, a ban on ammunition sales conducted over the Internet, or a limit on the capacities of firearm magazines. Thus, organized pro-Second Amendment activities, such as our event, show that gun rights are still treasured rights recognized by our Constitution and that citizens are willing to fight for them.
Expectations of a great turnout are high, as last year's event drew over a hundred lawfully armed participants. This year's event has been significantly upgraded with the expected presence of three renowned Second Amendment proponents: Pastor Kenneth Blanchard (founder of the Urban Shooter Podcast), Mr. John Pierce (founder of OpenCarry.org), and Mr. Larry Pratt (Executive Director of the Gun Owners of America).
The dinner will be held at the Upper Room Entertainment Complex – 23821 Grand River Avenue, Detroit, Michigan, 48219. The doors open at 6pm and the event is scheduled to end at 10pm. Tickets are available over the Internet: www.laid2012dinner.eventbrite.com