Carrollton, Ga-(Ammoland.com)- MasterPiece Arms, manufactures of the MPA MAC Line of semi-auto submachine pistols and carbines, has announced a new addition to the MPA sound suppressor line. The new Grim Reaper is a .22 suppressor in a K-baffle design with six baffles made from 7075 aircraft-grade aluminum.
The super-tight tolerances are held throughout the manufacturing process with respect to Total Indicated Runout (TIR) and concentricity of the outer tube to the front and rear cap and the K-baffles ensure a no point-of-impact shift.
The front and rear caps, plus the outer tube are hard coated anodized with the addition of the same hydrographic as seen on the MPA930T-GR pistol. The Grim Reaper Suppressor weighs just 3.1 ounces and is 5.625 inches in length and 1 inch in diameter. MSRP is $299.99MPA Grim Reaper Suppressor
The new .22 Grim Reaper suppressor is completely made on Masterpiece Arms' state-of-the-art CNC machinery, including a 5-axis vertical machining center for machining the exhaust ports. The units are designed to be fully serviced and cleaned by the user. A disassembly tool and instructions are included with every suppressor.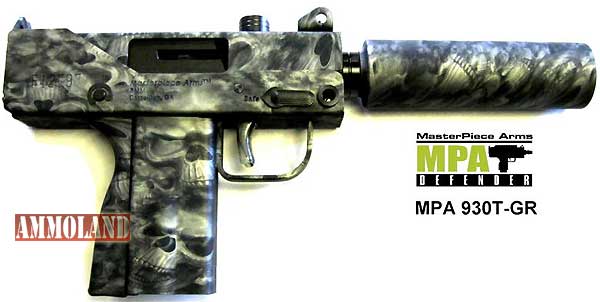 The Grim Reaper Suppressor is the new addition to the expanding lineup of MPA sound suppressors that will include center-fire and rim-fire pistol and rifle models in 9mm, .40 S&W, and .45 ACP. Like all Masterpiece Arms products, the suppressors include a lifetime warranty and support of the MPA dedicated service department.
---
About MasterPiece Arms

MasterPiece Arms, main offices located in Carrollton GA, combines quality engineering and state-of-the-art manufacturing to design and produce firearms, such as the re-innovated MAC 10 Defender Series. MasterPiece Arms is proud to offer one of the highest quality, subcompact, double action only pistols of the market, the Protectors, while maintaining a very affordable price. MasterPiece Arms uses state of the art CNC machining, turning, laser cutting and bending in its manufacturing process. MPA engineers, tests and re-tests our weapons to provide customers with one of the most enjoyable guns available. With versatile uses such as protection, hunting, tactical or novelty interests, MPA products are one of a kind and backed by a lifetime warranty for original owners. Learn more MasterPiece Arms products at www.masterpiecearms.com.