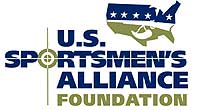 Columbus, OH –-(Ammoland.com)- As the sun rose over southeast Ohio on Saturday, August 11th, so did the anticipation level of the nearly 100 shooters who had gathered for the 2012 Ron Blosser Memorial Trailblazer Charity Shoot.
Fittingly, the event was again held at Hidden Haven, a shooting facility that was owned and managed by Blosser before his untimely death in 2008.  Ron was a longtime conservationist and believed to his core that youth shooters held the key to protecting the future of our sports.
Shooters and their sponsors found that anyone could participate at several levels of funding with all proceeds from the event going to fund and support the U.S. Sportsmen's Alliance Foundation Trailblazer Adventure Program. This program has introduced more than one million youth and their families to outdoor recreation that includes shooting, fishing, archery, and trapping.
Among the critical sponsors for this year's event were: Winchester Ammunition, the National Shooting Sports Foundation, Rocky Saxby, MJW Graphics, Hidden Haven and Nemacolin Resort. More than two dozen additional companies made donations of money, gear or other support. The highlight of the day was an auction of a collectible Henry Golden Boy lever-action rifle. A committee with a dozen members helped organize the event and ensured that everyone had a fun—and safe—day.
Anyone wanting to host a fundraiser for the Trailblazer Adventure Program is urged to call Derrek Shively at 614-888-4868 X 207. As the popular Trailblazer Adventure Program expands into more states and regions, this funding could be critical in helping more youth learn about the outdoors in exciting hands-on experiences.
About:The U.S. Sportsmen's Alliance is a national association of sportsmen and sportsmen's organizations that protects the rights of hunters, anglers and trappers in the courts, legislatures, at the ballot, in Congress and through public education programs. Visit www.ussportsmen.org.