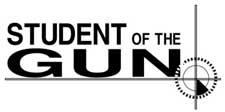 LUVERNE, AL –-(Ammoland.com)- More than mere entertainment, Student of the Gun is about education and the experience of learning to safely and effectively use firearms.
Student of the Gun University is pleased to announce open enrollment for their Fall Semester.
SOTG University Fall Semester is a compilation of training courses offered consecutively.  Classes include Pistol 101, Ballistic Problem Solving, and Beyond the Band Aid.  While all of the courses can be taken separately, students who enroll for the entire fall semester program will appreciate a significant tuition savings.
The SOTG University Fall Semester will take place at Canter's Cave 4H Camp just outside of Jackson, Ohio (approx. 1 hr from Columbus).  This full-service training facility includes multiple live-fire ranges, classrooms, dining facilities and lodging.  Students may opt to stay off campus but onsite lodging and meals are available for a reasonable daily rate.
Full details regarding all of the SOTG University courses as well as complete enrollment information can be found on www.studentofthegun.com by clicking the SOTG Univ. Training tab.  Course seats are limited to first come first served.  Interested students should enroll today.
All of the new episodes of Student of the Gun will be available for instant viewing by simply going to www.studentofthegun.com. 
"During the first two seasons we were constantly asked if our shows were available online. For SOTG 3.0 we will be putting each and every one of the 26 new episodes online for all to see." said Paul Markel host and producer.  "The feature episode for each week will be up for viewing each Tuesday evening."
Paul Markel c 2012
Follow Paul Markel at Student of the Gun.com .