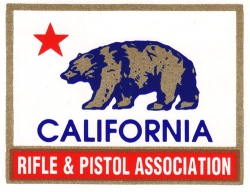 Sacramento, CA –-(Ammoland.com)-CONTACT THE GOVERNOR'S OFFICE ON THESE BILLS!
Time is running out!
The Legislature wrapped up their business on all bills for 2012 on August 31. The below-listed bills are in the Governor's hands and could be signed any day.
Five of these bills present a serious threat to firearms owners, shooters, and sportsmen.TAKE ACTION NOW! Your opinion matters and the power in the numbers of the CRPA membership can make a difference! Take your final opportunity to voice your support or opposition directly to the Governor.
Don't delay! Take action now and let the Governor hear your voice! Contact information for the Governor's office is included at the end of this alert. Don't forget to spread the word to fellow firearms owners and sportsmen; share this alert with anyone who can help.
ASK THE GOVERNOR TO SIGN THIS BILL:
URGE A SIGNATURE ON SB 1367 (Fuller)
DEER: ARCHERY SEASON: CONCEALED FIREARMS
SB 1367 would revise the Fish and Game Code to authorize a peace officer, whether active or honorably retired, to carry a firearm on his or her person while engaged in the taking of deer with bow and arrow, but would prohibit taking or attempting to take deer with that firearm. The current Fish and Game Code section governing possession of firearms while archery deer hunting is in conflict with the Penal Code section that permits peace officers and honorably retired peace officers to carry a concealed firearm. SB 1367 will remedy the conflict between the two codes.
ASK THE GOVERNOR TO VETO THESE FIVE BILLS:
URGE A VETO ON AB 1527 (Portantino)
BAN ON OPEN CARRY OF RIFLES AND SHOTGUNS
This bill would prohibit the open carry of unloaded rifles and shotguns within the city limits of any incorporated area. AB 1527 piggybacks on last year's ban on open carry of unloaded handguns.
URGE A VETO ON AB 2333 (Solorio)
BB DEVICES: IMITATION FIREARMS
AB 2333 imposes storage requirements for BB devices and civil penalties for those who fail to comply. Under the provisions of AB 2333 "…any person who keeps a BB device within any premises that is under the person's custody or control, who knows or reasonably should know that a minor is likely to gain access to that BB device without the permission of the minor's parent or legal guardian…" is subject to civil fines.
URGE A VETO ON AB 2460 (Dickinson)
PEACE OFFICER FIREARMS TRANSFERS
AB 2460 proposes to prohibit active peace officers from selling or transferring the ownership of handguns, that are not listed on the on the Department of Justice (DOJ) approved list of handguns for sale in California, to civilians. This bill would limit the sale of unlisted handguns to sales and transfers to active peace officers only. AB 2460 does not provide any provision for family members to inherit handguns from a retired peace officer or a peace officer who died in the line of duty. If unlisted handguns are safe enough to be used on duty by a peace officer and safe enough to be sold or transferred to an active peace officer they are safe enough to be sold or transferred to California residents.
URGE A VETO ON SB 1221 (Lieu)
MAMMALS: USE OF DOGS TO PURSE BEARS AND BOBCATS
SB 1221 would ban sport hunters from using dogs to pursue bears and bobcats. SB 1221 sets up a double standard. Government hunters would be allowed to use dogs to hunt bears and bobcats, while sportsmen would be prohibited from using their dogs to hunt bears or bobcats! The authority to manage wildlife in California is delegated to the California Fish and Game Commission by the legislature. This bill attempts to bypass the authority of the Fish and Game Commission and move forward without following the mandatory environmental review (CEQA) and public hearings through the Commission.
URGE A VETO ON SB 1366 (DeSaulnier)
FIREARMS: LOST OR STOLEN: REPORTS
This bill would require you to report a lost or stolen firearm within 48 hours of when you knew or should have known the firearm was missing. The language of SB 1366 is very subjective. The reporting time frame of "…within 48 hours of the time you know or reasonably should have known…" leaves the door wide open for zealous law enforcement efforts and no way for law-abiding victims to easily prove that they were unable to comply because of extenuating circumstances. Failure to timely report carries criminal penalties. If you lose a firearm or have a firearm stolen, SB 1366 sets you up to become a lawbreaker if you fail to notify within 48 hours.
HAVE YOU SIGNED UP FOR CRPA E-MAIL ALERTS YET?
Sign up here to receive up-to-date member e-mail alerts on pending legislation. It is free and it is easy – all you have to do is enter your e-mail address and click the "Submit"
GOVERNOR'S OFFICE CONTACT INFORMATION
E-mail the Governor here. Be sure to scroll down and select the appropriate bill number under the "Please Choose Your Subject" tab. Governor's office phone: (916) 445-2841; fax: (916) 558-3160; mailing address: Governor Jerry Brown, c/o State Capitol, Suite 1173, Sacramento, CA 95814
About:
The California Rifle and Pistol Association "CRPA," founded in 1875, is dedicated to defending the rights of law-abiding citizens to responsibly use firearms for self-defense and the defense of their loved ones, for sport, and for all other legal activities. CRPA is the official state association of the National Rifle Association. A California non-profit association, CRPA is independently directed by its own Board of Directors. CRPA's members include law enforcement officers, prosecutors, professionals, firearm experts, the general public, and loving parents. CRPA has always worked to reduce the criminal misuse of firearms and firearms accidents, while actively promoting and organizing the competitive shooting sports and Olympic training programs in California. We are proud to say that many CRPA competitors are among the best in the world. Visit: www.crpa.org