By Tim Brass
Colorado Coordinator, Backcountry Hunters & Anglers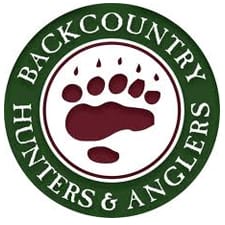 Colorado –-(Ammoland.com)-  Whether you're dreaming of bugling elk, grunting bucks or cupping ducks, one thing is certain – the best time of year is here.
For hunters, it's the dawn of a new season. On September 22nd sportsmen everywhere will "share the pride" in celebration of National Hunting and Fishing Day.
As the country's conservation pioneers, hunters and anglers have good reason to be proud. To maintain the pride we sportsmen have earned, Backcountry Hunters & Anglers (BHA) is asking sportsmen everywhere to make ethical and responsible decisions when accessing public lands by vehicle this hunting season. Our wildlife habitat and namesake are too great to do otherwise.
Though the hunting season has just begun, we have already heard too many reports about hunters using Off-Highway Vehicles (OHV) irresponsibly. Yet, as explained by Coloradan sportsman Aaron Hoffman, "illegal OHV use runs contrary to what most hunters and anglers believe in, and what they are trying to experience while hunting and angling." While it may only be a select few hunters who ride OHVs irresponsibly, it only takes one irresponsible rider to ruin the hunt of many. Here are just a few stories:
Jerry Woodland, now in his early seventies, is one of Utah's newest members of the Backcountry Hunters & Anglers. While some older hunters could use advancing age as reason for using an OHV to gain off-trail access, Jerry does not. He recounted an experience in Colorado where he worked in the computer industry for over thirty years. After successfully harvesting a bull elk with his traditional archery equipment, Jerry was approached by other hunters who offered to help retrieve the meat by OHV. Despite Jerry's polite "thanks but no thanks," the other hunters spent much of the day breaking trail on their OHV to get to the downed animal. By then, Jerry had boned out the elk and packed the meat to his 4wd vehicle. Years later, Jerry regretfully explains the off-trail route the OHV'rs cleared to "help him" has become a well-used motorized trail, causing the elk to move elsewhere.

Matt C., a former guide and outfitter from Central Utah, describes a situation where, after watching a mature 4×4 mule deer buck and several other deer sneak out of a thick patch of aspen, he decided to let the area rest. When he returned days later to try for the buck with his muzzleloader, Matt found that vehicle tracks crisscrossing the area had beaten down the underbrush leaving the deer's bedding grounds as barren as a dusty feedlot. The ATV "hunters" illegally traveled more than ¾ of a mile from a designated route, displacing game and destroying the vegetation that the game depends upon for both food and cover.

In New Mexico, Dan Bastion has faced the same problem, "I was looking for tracks at a waterhole when the OHV rider drove up on the other side of the waterhole. Instead of getting off his machine to look for tracks, he asked me if I saw any tracks!"

There are additional impacts, as noted by Bob Shettel from Colorado, "the exhaust note of OHVs can and does spook big game in a swath from ¼ mile to ½ mile to either side of their path. In 10 quick miles, they've shooed away game for 5 to 10 square miles."

Most hunters who have spent any considerable time chasing elk don't need scientific studies to understand that elk avoid roads and vehicles. Washington BHA member Mark Scott explains that he makes "continuous efforts to seek out secluded areas to hunt in order to find mature game and reduced hunting pressure." Unfortunately, Mark recounts numerous occasions when he's been "interrupted by OHV'rs that have built trails around gates or even had the audacity to build a stand-alone trail in the woods."

But Mark relied on the instincts he has developed as a hunter to try to stop reckless OHV operators. He recently used a trail camera to identify a rider trespassing on his land. But identifying illegal riders can be a difficult task with helmets providing the irresponsible few with anonymity. That's why visible identification on vehicles, like license plates or large decals, make sense. It will make riders think twice before leaving designated trails and provide responsible hunters with a way to identify those who ruin a hunt.
When hunters like Mark, Jerry, Dan, Matt and Bob invest the time, energy and money to access public hunting lands as hunters have done for generations; by foot, only to have their efforts trumped by thoughtless, vehicle-dependent hunters, the loss is often unquantifiable. And they are not alone. Several Colorado BHA members shared their stories with me on video.
So it should come as no surprise that when hunters were asked what the punishment should be for illegally operating an OHV off-route, 93 percent thought fines of $200-$300 were appropriate and 70 percent thought punishment should include a loss of hunting privileges for a year.
Even so, in many areas, fines for illegal off-trail OHV use remain as low as $50-$100. The question needs to be; as sportsmen, are we OK with this?
For more than 70 years sportsmen have been at the forefront of the conservation movement. It's now time for us to address what former Forest Service Chief Dale Bosworth described as one of the biggest threats to our nation's national forest; unmanaged OHV use. It's a problem that Mark, Jerry, Dan and Matt understand first-hand. And it's a problem they and many others are willing to speak-up about – their sporting heritage depends on it.
On September 22nd sportsmen will "share the pride" as America's conservation pioneers in honor of National Hunting and Fishing Day. Let's make sure we maintain the pride we've earned and drive responsibly this hunting season.
**To celebrate National Hunting and Fishing day members from Backcountry Hunters & Anglers will be at gun shows, trailheads and events throughout the West providing educational materials on responsible OHV use.
About:
Backcountry Hunters & Anglers (BHA): BHA is built on a foundation laid down by conservationists like Theodore Roosevelt and Aldo Leopold, who understood that America's outdoor heritage depends upon healthy ecosystems. BHA's work is steeped in the values of freedom, challenge, family and adventure, yet at the same time is couched in the sciences of biology and ecology. BHA strives to lead by example, both in the realm of land and water conservation and the realm of ethical hunting and fishing. Our view is not limited to the "here and now," but extends to the needs and rights of future generations of outdoorsmen and women. Visit: www.backcountryhunters.org