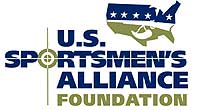 Columbus, OH –-(Ammoland.com)- It is a fact that the opening day of any hunting or fishing season make hunters and anglers cheer, but now there's one more day to cheer about – National Hunting and Fishing Day.
This year the BIG Day will be held Saturday, September 22 and celebrations at sportsmen's clubs, marinas and other locations can be discovered and enjoyed from coast-to-coast.
Down in Georgia, there will be free fishing clinics and Outdoor Adventure days where kids can shoot firearms and bows and also see hunting dogs at work. The state has also declared that the special day will also be a free fishing day (no licenses required) for residents who decide to fish in public waters.
"If you participate in outdoor activities, such as hunting, fishing, wildlife watching or if you have an interest in these activities, but don't know how to get started, you will want to attend one of these events," said Dan Forster, director of Georgia's Wildlife Resources Division. "There will be a variety of things to do, and you will have knowledgeable staff and volunteers who simply want to help you have the best time possible and encourage you to take the activity beyond this one day."
For a list of the many events held across the state, visit: www.georgiawildlife.com/get-involved/nhfday .
If you would like to locate and attend an event in your state, visit: http://www.nhfday.org/Page/Events.aspx. The history of NH&FD is a classic tale. Ira Joffe, owner of Joffe's Gun Shop in Upper Darby, Pennsylvania made the suggestion that resulted in Pennsylvania Gov. Raymond Shafer creating "Outdoor Sportsman's Day" in 1970. In 1973, the U.S. Congress and President Richard Nixon established this national day to recognize generations of hunters and anglers for the time and money they donate to wildlife conservation programs.
For those who enjoy hunting and fishing, there's another great reason to pause and reflect on Sept. 22.  As part of their partnership with National Hunting and Fishing Day, Yamaha Motor Corp., U.S.A. has donated a 2012 Yamaha Rhino 700 FI (approximate retail value $11,499) that one lucky outdoorsman will win. You can enter at www.nhfday.org.
About:The U.S. Sportsmen's Alliance is a national association of sportsmen and sportsmen's organizations that protects the rights of hunters, anglers and trappers in the courts, legislatures, at the ballot, in Congress and through public education programs. Visit www.ussportsmen.org.