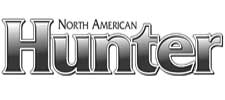 Minnetonka, MN –-(Ammoland.com)- White-tailed deer hunting during a drought in Kansas and a second-chance color-phase blonde bear in Manitoba is what's on tap for this week's episode of North American Hunter.
Co-hosts Mark Kayser and Luke Hartle each have their own challenges this week as they battle bad weather and their own stamina.
Tune in to North American Hunter on NBC Sports Tuesdays at 10 a.m., Thursdays at 2:30 p.m., Fridays at 11 a.m. and Sundays at 11:30 p.m. (ET). North American Hunter is part of the North American Hunting Club, the premier community for hunters and outdoor enthusiasts.
First up is Mark Kayser, who's in the midst of muzzleloader season in Kansas. But the hot, dry and windy weather throws him and his guide for a spin.
"Kansas is the breadbasket of America. But unfortunately, by the time we arrived, there were just crumbs," said Kayser during the show. "It was so dry, conditions weren't great for whitetails."
After a few days of trying to figure out the deer herd's odd patterns, and a few missed opportunities thanks to other predators, Kayser finally is able to take a shot at a large 8-pointer with a wide spread.
Up next is Luke Hartle, who is bowhunting for bears at Agassiz-Waterhen River Lodge and Outfitters owned by Rick and Colleen Liske, in the inter-lake region of Manitoba. "I've spent a lot of time bear hunting before, but coming to this place in Manitoba with the overwhelming success at this camp with color-phase bears is phenomenal," said Hartle during the show.
Hartle is so excited to finally be in the stand that he passes up on his first cinnamon bear on the first day. No cubs were around this sow, but Hartle wanted to extend the hunt a little longer. The second day, after a restless night sleep, Hartle exclaims that if that bear gives him a second chance, he'll take it. And by the end of the second day, guess who showed up underneath his stand once again? This time, Hartle didn't mince words as he drew back his bow for a clean shot on the sow.
"I've hunted bears with the Liskes three times now, and I'm just getting started. Who else can boast an annual harvest of 40 percent color-phase bears—many surpassing the 7-foot mark—with a 100 percent shot-opportunity rate?" said Hartle.
Join the North American Hunting Club FREE for the first 30 days and receive a digital copy of North American Hunter; just log onto HuntingClub.com.
About North American Hunting Club:
With 750,000 enthusiastic members, North American Hunting Club—through its official publication, North American Hunter—strives to increase the hunting skills and enjoyment of Club members. The NAHC's mission is to serve as a one-stop source where avid hunters from across North America can satisfy all their hunting needs. The Club also acts as a vehicle through which hunters from all points of the compass can communicate—sharing success stories, photos and videos through the magazine, website and the social network. For more information on the NAHC, visit: HuntingClub.com.