New This Week: Bullseye! And Julie's first Duck Hunt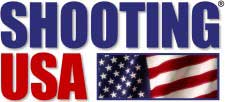 USA – Shooting USA – Camp Perry National Pistol Matches
Bullseye Shooting. That's the nick-name for The National Pistol Championships at Camp Perry, with rimfire and center-fire at 25 and 50 yards, for Bullseye accuracy in the historic matches.
Then meet the ladies of the Les Baer Custom Pistol Team to find out what they shoot to claim their titles in the sport. Plus, action pistol champ Julie Golob tries her first duck hunt in the rain and the cold, but finds out why waterfowlers are so passionate about their hunting. More Info…
Shooting USA's Impossible Shots – Long Range Flintlock
Mr. Flintlock challenges the wind in Northern Maine to go the distance with his round balls. First shooting 200 yards and then pushing his Flintlock accuracy limit to 300 yards. It's an artillery shot challenge for our black powder expert. Then we travel across the continent to find Cisko working up some flamboyant fast draw challenges that have something to do with "fire in the hole."
Wednesday on Outdoor Channel
The Shooting USA Hour:
Eastern Time: 3:30 PM, 8:30 PM, 12:00 Midnight
Central Time: 2:30 PM, 7:30 PM, 11:00 PM
Mountain Time: 1:30 PM, 6:30 PM, 10:00 PM
Pacific Time: 12:30 PM, 5:30 PM, 9:00 PM
Shooting USA is listed as a one hour show in your cable menu.
Shooting USA's Impossible Shots:
Eastern Time: 3:00 PM, 10:30 PM, 2:00 AM
Central Time: 2:00 PM, 9:30 PM, 1:00 AM
Mountain Time: 1:00 PM, 8:30 PM, 12:00 Midnight
Pacific Time: 12-Noon, 7:30 PM, 11:00 PM
Join us Wednesday Night for 90 minutes of Shooting USA Shows, The only TV gun shows airing every week, 52 weeks each year.
The Travel Schedule:
John is leading our coverage team to the IDPA Nationals this week. If you're competing, don't let our cameras disturb your concentration. There'll only be about a million people watching to see how you do. Good luck!