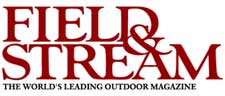 New York, NY –-(Ammoland.com)- Bonnier Corporation, publisher of the world's most popular outdoor titles, including Field & Stream, and Outdoor Channel, America's leader in outdoor TV, today revealed that celebrated country music star Craig Morgan will host the upcoming season of "Field & Stream Total Outdoorsman Challenge."
As one of country music's best-loved artists, Grand Ole Opry member Craig Morgan has made a name for himself with signature hits, such as: "Bonfire," "Almost Home," "Redneck Yacht Club," "That's What I Love About Sunday" and "International Harvester," along with his latest hit and title track to his new record, "This Ole Boy." His new single, "More Trucks Than Cars," is currently climbing the country radio charts. A man of many talents, Morgan is also the host of the award-winning show "Craig Morgan: All Access Outdoors," which is presently in its third season on Outdoor Channel. Prior to becoming a country music and TV sensation,
Morgan spent more than a decade in the Army and an additional nine years in the Army Reserves. Hosting duties for Morgan will include color commentary from the heart of the action, competition analysis and on-field interviews.
Craig Morgan will be joined by co-host T. Edward Nickens, Field & Stream Editor-at-Large and author of "The Total Outdoorsman," the comprehensive guide on mastering the outdoors. Also appearing on the show are several industry experts offering a breakdown of the competition, including Field & Stream Fishing Editor Joe Cermele, in addition to Allen Treadwell (one of the hosts of Outdoor Channel's "Bass Pro Shops King of Bucks") and Dr. Grant Woods, both members of the Bass Pro Shops Red Head Pro Hunting Team.
Now in its fourth year on Outdoor Channel, "Field & Stream Total Outdoorsman Challenge" has grown to become one of the most popular outdoor events in the country. The original reality series highlights the dramatic journey of outdoor enthusiasts from across the country battling for recognition as the nation's most all-around skilled outdoorsman.
As previously announced, "Field & Stream Total Outdoorsman Challenge" is expanding from a four-part special to 13 half-hour episodes as a result of its growing success and accolades, offering a more in-depth look at the personalities behind the fourteen finalists in the ultimate outdoor competition. There will be some returning outdoorsmen from last season battling this season's rookies to be named the 2012 Total Outdoorsman. The champion will win more than $50,000 in cash and prizes.
The new season of "Field & Stream Total Outdoorsman Challenge" will debut on Wednesday, October 3rd at 9:30 p.m. ET during the MidwayUSA Wednesday Night At The Range programming block.
Exclusively on Outdoor Channel.
Check local listings or log on to www.OutdoorChannel.com for show schedules. To find out how to get the network in your area, go to www.OutdoorChannel.com/channelfinder. For more "Field & Stream Total Outdoorsman Challenge" details, including the names of the Total Outdoorsman competitors, go to: http://toc.fieldandstream.com/.