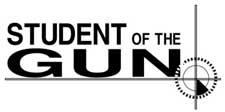 LUVERNE, AL –-(Ammoland.com)- Paul Markel and the entire crew of Student of the Gun are pleased congratulate the first three winners in the SOTG 3.0 Gun Giveaway contest.
The winners include Messrs. William Cundiff, Dan Findlay, and Martin Wilt.
The lucky winners were entered in the contest after making purchases at the SOTG Gear store and/or signing up for the official SOTG newsletter. Each winner will receive a certificate for a Diamondback Firearms DB380 .380 ACP pistol which will be sent to the FFL holder of their choice for legal transfer.
"We wanted to do something special for our fans to commemorate our third season." said Paul Markel, host and producer of Student of the Gun. "Giving away guns in three's seemed like a great way to say Thanks for being a student of the gun."
The contest continues. On September 15th three more names will be drawn to win Diamondback DB9 pistols. The Grand Prize to be drawn in October will be a KRISS .45ACP Carbine package.
All of the new episodes of Student of the Gun will be available for instant viewing by simply going to www.studentofthegun.com. Shop for official Student of the Gun merchandise at www.studentofthegungear.com.
Paul Markel c 2012
Follow Paul Markel at Student of the Gun.com .