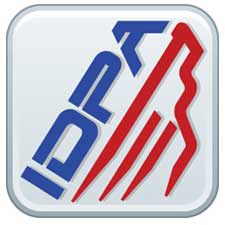 BERRYVILLE, Ark. –-(Ammoland.com)- The International Defensive Pistol Association today announced that GLOCK, the nation's leading pistol provider to American law enforcement agencies and maker of some of the most popular pistols used in the shooting sports, will be a major sponsor of the 2012 IDPA National Championships.
"GLOCK is one of the most popular brands of pistol used in IDPA competition, accounting for a third of all the pistols used by competitors during last year's inaugural IDPA World Shoot. Thanks to their continued strong support of the shooting sports, and the 2012 IDPA National Championships in particular, you'll likely see a GLOCK in the hands of a majority of shooters again this year," said Robert Ray, membership and marketing director for IDPA.
GLOCK joins ACADEMI, Comp-Tac Victory Gear, CrossBreed Holsters, CZ-USA, GlockTriggers.com, the National Shooting Sports Foundation, Smith & Wesson, Wilson Combat and Woolrich Elite Series as a gold level sponsor of the match. In addition to sponsoring the match, GLOCK will be presented in the competition by Team GLOCK shooter Tori Nonaka.
"GLOCK is excited to return and support the fine efforts IDPA plays in the development of safe, competitive competitions for all handgun owners. Refinement of tactics and the execution of specific real life experiences during the competitions fills a specific void in competitive shooting. IDPA is as real as it can get and we are proud to come aboard and support this National match for 2012," said Ed Fitzgerald of GLOCK.
The IDPA National Championships will take place September 19-22 at Range in Oxford, N.C. As the pinnacle event of the IDPA competitive season, the match will draw more than 300 top shooters vying for the coveted title of National Champion in Custom Defensive Pistol, Enhanced Service Pistol, Stock Service Pistol, Stock Service Revolver and Enhanced Service Revolver, the five divisions in IDPA competition.
For more information, or to get started in this fun and exciting defensive pistol shooting sport, visit www.IDPA.com. You can also follow @OfficialIDPA on Twitter, like ShootIDPA on Facebook, watch IDPA TV, or check out the Down Zero Blog to keep up with the latest news.
About GLOCK, Inc.:
GLOCK, Inc. is a leading global manufacturer of pistols and accessories. GLOCK's superior engineering has produced a pistol with only 34 parts and a rugged polymer-frame, providing industry-leading reliability shot after shot. GLOCK is renowned for its pistols which are safe, featuring three safeties; simple, offering a low number of components to provide reliability; and fast, with no encumbering parts to slow the speed to fire. This combination makes GLOCK pistols the first choice among consumers and law enforcement, with 65% of agencies nationwide choosing to carry GLOCK. Austrian-engineered, the company has manufacturing facilities in the United States and Austria. Based in Smyrna, Ga., GLOCK, Inc. is an advocate for our nation's law enforcement and military personnel, as well as all citizens' Second Amendment right to bear arms. For more information, please visit www.teamglock.com.
About International Defensive Pistol Association:
Founded in 1996, the International Defensive Pistol Association is the international governing body for IDPA competition which offers shooters a fun, safe, and challenging format to practice and test their gun handling skills through defensive-based scenarios. Today IDPA stands as the fastest growing shooting sport in the United States with over 20,000 members from all 50 states and 54 foreign countries. IDPA's 321 affiliated clubs offer weekly and monthly matches as well as host major championships.