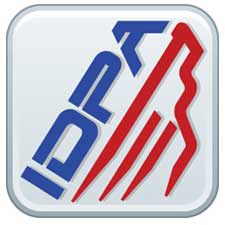 OXFORD, N.C. – -(Ammoland.com)- Following up on his title win earlier this year at the Smith & Wesson Indoor Nationals, Juan Carlos Gonzalez of Venezuela won the International Championship title last weekend at the 2012 IDPA National Championships.
Facing off against a very strong field of competitors from Venezuela, as well as Austria, Costa Rica, Italy, Mexico, Puerto Rico, Romania and the United Kingdom, Gonzalez took top International shooter honors with a strong performance in the Enhanced Service Pistol division where he finished with a time of 305.22 and 72 points down.
"Juan Carlos has made the Venezuelan shooting community proud winning the International title in both IDPA national matches," said Joyce Wilson, executive director for IDPA. "With more than 50 countries participating in IDPA, the race for the International title continues to grow in importance, giving Juan Carlos and the rest of our friends in Venezuela a whole lot more competition in the future."
Second place in the International title race went to fellow Venezuelan Vrikson Acosta who finished with 316.21 (137), while third place went to Costa Rica's Rodrigo Carvajal with 318.11 (119) and fourth went to Nelso Lopez Iglesias of Venezuela who posted a final time of 332.01 (95) in the Stock Service Pistol division.
Ricardo Zanotti of Venezuela rounded out the top five with 333.73 (153). Alberto Soto of Costa Rica took top International honors in the Custom Service Pistol division with 334.65 (112) and Venezuela's Juan Cheng did the same in Stock Service Revolver with 420.05 (206).
The 2012 IDPA National Championships took place September 19-22 in Oxford, N.C., drawing many of the shooting sports' top pistol shooters.
Fore more information, or to get started in this fun and exciting defensive pistol shooting sport, visit www.IDPA.com. You can also connect with IDPA online by following @OfficialIDPA on Twitter, like ShootIDPA on Facebook, watch IDPA TV, or check for regular updates on the DOWN ZERO Blog.