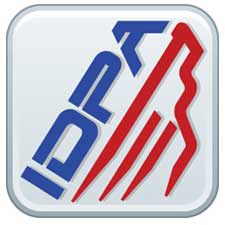 BERRYVILLE, Ark. –-(Ammoland.com)- Next week's International Defensive Pistol Association (IDPA) National Championships will bring together over 350 of the sport's top competitors, all gunning for the coveted title of National Champion in one of its five divisions and 11 categories.
As the country's fastest growing shooting sport, fueled by the increased demand in concealed carry permits and the need for personal protection, entry into the match is one of the most difficult, especially considering IDPA's membership exceeds 20,000 and represents more than 50 nations.
To help bring the action of the 2012 IDPA National Championships to members across America and around the globe, IDPA announced it will provide an online preview beginning this weekend of stage designs from the match.
"Starting Saturday evening, September 15, we will preview one stage from the National Championships. Then each night after we will reveal another stage until the match officially begins on Wednesday, September 19. During the match on Wednesday and Thursday the remaining stage diagrams will be posted so members can review all 16 stages of the National Championships course of fire," explained Joyce Wilson, executive director of IDPA.
IDPA members and others interested in the scenarios and stage designs featured in this year's match should visit the DOWN ZERO blog, the official blog of IDPA, at 8:00pm ET September 15 through18. The remaining 12 stage diagrams will be posted on the blog throughout the day on Wednesday and Thursday, September 19 and 20.
"We want all IDPA members to see the state-of-the-art course design at this year's National Championships. Our hope is that IDPA clubs and match directors will take advantage of this opportunity and share these creative and innovative stage designs with their local members," added Wilson.
Taking place September 19-22, at The Range in Oxford, N.C., the 2012 IDPA National Championships are sponsored by ACADEMI, Comp-Tac Victory Gear, Cheaper Than Dirt!, CrossBreed Holsters, CZ-USA, GLOCK, GlockTriggers.com, Harris Publications, the National Shooting Sports Foundation, Remington, Smith & Wesson, Wilson Combat and Woolrich Elite Series, among others.
Fore more information, or to get started in this fun and exciting defensive pistol shooting sport, visit www.IDPA.com. You can also follow the IDPA National Championships online by following @OfficialIDPA on Twitter, using hashtag #IDPANats, like ShootIDPA on Facebook, watch IDPA TV, or check for regular updates on the DOWN ZERO blog.