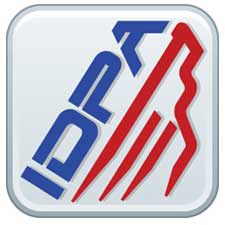 OXFORD, N.C. –-(Ammoland.com)- Kirk Crego outpaced two of IDPA's top wheelgunners to claim the Stock Service Revolver division title this past weekend at the International Defensive Pistol Association's 2012 National Championships.
Facing off against Joe Linskey, the 2012 Smith & Wesson Indoor Nationals champion, and Gregg Kratochvil, the 2012 Carolina Cup champion, Crego won seven of 16 stages and outpaced his closest competitor by 22.5 seconds with a final time of 338.59 seconds and 52 points down.
"With his performance at Nationals, Kirk has established that there is a new contender in the Stock Service Revolver, and he just happens to be the 2012 National Champion," said Joyce Wilson, executive director for IDPA.
Coming in second behind Crego was Tom Becker, first Master with 361.09 (102), Joe Linskey, the only Distinguished Master in SSR, with 369.45, Gregg Kratochvil at second Master with 371.38, and Caleb Giddings rounding out the top five at third Master with 386.52 (90).
Elsewhere in the division, Ken Ortbach took first Expert with 402.19 (99), while Juan Cheng of Venezuela, the only International shooter in SSR, claimed first Sharpshooter and Michael French finished first Marksman with 529.45 (203).
The 2012 IDPA National Championships took place September 19-22 in Oxford, N.C., drawing many of the shooting sports' top pistol shooters.
Fore more information, or to get started in this fun and exciting defensive pistol shooting sport, visit www.IDPA.com. You can also connect with IDPA online by following @OfficialIDPA on Twitter, like ShootIDPA on Facebook, watch IDPA TV, or check for regular updates on the DOWN ZERO Blog.