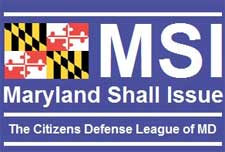 Maryland ––(Ammoland.com)- Annual Membership Meeting – Saturday, September 8th, 4-5PM
Maryland Shall Issue will hold its annual membership meeting in the Avalon Meeting Room at the Miller Branch of the Howard County Public Library on September 8th from 4-5PM. This meeting is our biggest of the year and is the one where we introduce officers and board members for the coming year. Elections for those positions will take place earlier in the day at a meeting of the Executive Membership. We will also be bringing you up to date on the legislative and judicial efforts that we are pursuing.
We will have people on hand to collect your dues as well as to sell the MSI gear that is available at our online store. Items purchased at the meeting will be discounted as shipping charges won't be necessary.
We look forward to seeing you at 4PM on Saturday, September 8.
The address is 9421 Frederick Rd Ellicott City, MD 21042.
We anticipate streaming this meeting online for those who cannot attend. Streaming information will be posted on www.marylandshallissue.org 15 minutes before the meeting begins.
2. MSI Outreach – Oktoberfest at the Kentlands – Sunday, October 14th, 12-4PM
We're always excited for the opportunity to spread our message of safe and responsible firearm ownership, but we're particularly excited to do so in a part of the state that is largely considered to be staunchly anti-2A. Events like this allow us to dispel the myths promulgated by those who oppose to our 2nd Amendment civil rights.
We are looking for volunteers to help man our booth. Experienced members will be on hand to help newcomers become acclimated to the process. Promotional/educational materials will be available as well. If you are interested in helping, please reply to this e-mail.
3. Recap of the Buck Wild Hunting Expo
MSI extends a deep and sincere appreciation to those who participated at the Buck Wild Hunting Expo in Southern Maryland. Confirmation for this event came with very short notice, so we were unable to promote the event until the last minute. Still, a number of you answered the call and staffed the booth over a three day period. It was nothing short of a great success. We spoke with hundreds if not thousands of people over the weekend, many of whom had never heard of Maryland Shall Issue® and were eager to learn more about our mission. Again, a hearty thanks to those who were able to help.
Maryland Shall Issue, Inc.
1332 Cape Saint Claire Road #342
Annapolis, Maryland 21409
240-446-6782
Mission Statement: Maryland Shall Issue is an all volunteer, non-partisan effort dedicated to the preservation and advancement of all gunowners' rights in Maryland, with a primary goal of CCW reform to allow all law-abiding citizens the right to carry a concealed weapon; and to the education of the community to the awareness that 'shall issue' laws have, in all cases, resulted in decreased rates of violent crime.