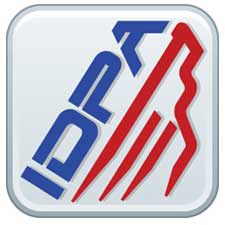 OXFORD, N.C. –-(Ammoland.com)- Matt Mink of Team CZ-USA captured the national title in the Enhanced Service Pistol division at the 2012 International Defensive Pistol Association (IDPA) National Championships this past weekend in Oxford, N.C.
Ranked as a Distinguished Master in IDPA, Mink finished the match with a time of 238.93 and 48 points down, placing him in the top five in match accuracy, and over 10.5 seconds ahead of his nearest competitor.
"Matt is recognized as one of the strongest pistol shooters in the nation and proved it this past weekend with a very strong performance in a heavily contested ESP contest where his final time, the second fastest in the match, won him the title," said Joyce Wilson, executive director of IDPA.
Second place in the division went to Brandon Wright, the Team ITI member who claimed the ESP title earlier this year at the Carolina Cup. Wright took first Master with 249.46 (61). Eric Fuson placed third overall in the division for second Master with 250.76 (36) while Team RangeLog's Ravin Perry grabbed third Master honors with 257.62 (94). Rounding out the top five was James McGinty, last year's division champion, and a Distinguished Master, who finished with 262.90 (78).
Elsewhere in the division Scott Warren finished fourth Master and sixth overall in ESP, but more importantly his final time of 264.96 with 79 points down earned him Senior National Champion honors as well.
Juan Carlos Gonzalez of Venezuela won the International title with his ESP performance of 305.22 (72). Wayne Ritchie finished first Expert with 312.13 (73), followed by Bill Muncy, first Sharpshooter with 324.87 (95), Tammy Lyne as the top Lady in ESP with 395.06 (157), and Richard Valvo claiming first Marksman with 398.26 (131).
The 2012 IDPA National Championships took place September 19-22 in Oxford, N.C., drawing many of the shooting sports' top pistol shooters.
Fore more information, or to get started in this fun and exciting defensive pistol shooting sport, visit www.IDPA.com. You can also connect with IDPA online by following @OfficialIDPA on Twitter, like ShootIDPA on Facebook, watch IDPA TV, or check for regular updates on the DOWN ZERO Blog.