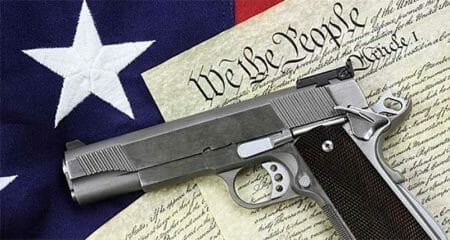 PHOENIX, AZ –-(Ammoland.com)- Two more proposals to add to the growing list of positive useful gun and gun rights laws.
While it is critically important to get your legislators to REPEAL laws, it is also important to press for laws that will help set things straight.
Disposition of Confiscated Firearms
When a firearm is confiscated from a person, by a peace officer or other person with apparent authority to do so, the person making the confiscation, or that person's immediate superior, must ensure that the firearm is returned in a timely manner [and in the same condition] when the reason for the confiscation is resolved. If the firearm is not returned in a timely manner as established by the legislature, the person responsible for its return shall be fined, or for the excessive delay, imprisoned, for a length of time as determined by the legislature.
Deceptive Denial of Rights
Posting a sign that falsely denies the right to keep and bear arms, or misleads a person into believing that firearms are forbidden in a place where the right to keep and bear arms is intact, is a class 1 misdemeanor for a first offense.
The wrong way to draft such a law (and how legislators usually do it): It shall be illegal to post a sign that bans guns where they are not illegal to possess. The right way (and how we're going to start making them do it): Anyone who posts a sign that bans guns, where they are not illegal, shall go to jail and pay a fine.
Florida has enacted such a law, and bureaucrats statewide scrambled to remove all their rights-denial signs the night before the law took effect. The hoplophobic, tyrannical, wet-their-pants, petty despots did their best to scare everyone into obeying their fear-mongering chicken-little blood-in-the-streets terror tantrums.
To their dismay, the signs died, but no people died. All is well. We all need such laws. I'll get a copy of their bill and pass it around.
Read a collection of Model Laws, some of which have already been enacted.
Your state could be next. http://www.gunlaws.com/ModelLegislation.htm
---
About GunLaws.com

Scottsdale, Ariz.-based Bloomfield Press, founded in 1988, is the largest publisher and distributor of gun-law books in the country. Our website, gunlaws.com, features a free national directory to gun laws and relevant contacts in all states and federally, along with our unique line of related books and DVDs. "After Your Shoot" for media review is available on request, call 800-707-4020. Our authors are available for interview, call to schedule. Call for cogent positions on gun issues, informed analysis on proposed laws, talk radio that lights up the switchboard, fact sheets and position papers. As we always say, "It doesn't make sense to own a gun and not know the rules." Visit: www.gunlaws.com