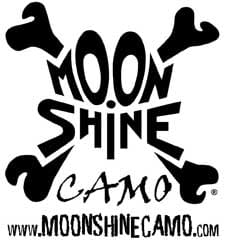 BEAVERTOWN, PA –-(Ammoland.com)- Moon Shine, LP, the premium designer of Moon Shine Attitude Attire, announces that they have licensed Legacy Sports International to offer the Moon Shine camo patterns on their popular line of Howa rifles and Escort Shotguns.
"On behalf of Moon Shine, we are excited to partner with Legacy Sports International," stated Moon Shine President, Travis Mattern.

"We will not only be offering our camo to them, but also marketing through them. They are giving us a great opportunity for brand exposure. We've shared photos of the camo dipped guns with our social media network and the response was amazing. With our camo patterns and Legacy Sports distribution network, we feel that America is going to see a refreshingly new attitude in the outdoor product line."
"We at Legacy Sports International are proud to team up with Moon Shine," stated Legacy Sports VP of Sales & Marketing, Andy McCormick.

"Our initial test market responses from consumers with the Howa rifles have been phenomenal to say the least! We are looking forward to the upcoming trade show season where we will be highlighting the Howa lineup featuring Harvest Moon Camouflage, Outshine Camouflage and Muddy Girl Camouflage. The Moon Shine camo patterns will also be featured in our 2013 catalog."
Moon Shine welcomes Legacy Sports International to the Moon Shine family. Their national distribution of firearms in Moon Shine camo will significantly increase brand awareness giving Legacy Sports a new look that has already proved itself to be successful in the marketplace.
About Moon Shine, LP:
Moon Shine, LP is a cutting edge designer of quality brand name apparel that conveys the attitude and traditional values of every generation. From the hunters and farmers who live off our lands to the soldiers and patriots who protect it, Moon Shine Attitude Attire™ honors the essence of the American Legacy. For more information visit www.shineattire.com, or call 1.800.4.MOON.SHINE (800-466-6674)
About Legacy Sports:
Is the exclusive importer of Howa Rifles, Escort Shotguns, Citadel Handguns and Rifles, ISSC Handguns and Rifles, Puma Handguns and Rifles and Nikko Stirling Optics. Legacy Sports International is known for being the importer and distributor of the finest "out of the box" firearms for enthusiasts worldwide for the best value through customer service and product development. For more information visit www.legacysports.com, or call 1.800.553.4229