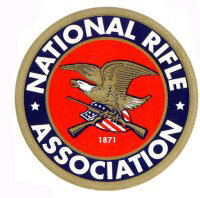 FAIRFAX, Va. –-(Ammoland.com)- The National Rifle Association is pleased to announce that the Alaska State Friends of NRA committee from Anchorage will be named the 2011 Most Outstanding Friends of NRA Committee at the September NRA Board of Directors Meeting. Committee chairman Denny Hamann will receive the award on Saturday, September 15, 2012.
"Under the leadership of Denny Hamann and his co-officers, the Alaska State Friends of NRA has paved the path for the entire state," said NRA Executive Director of General Operations Kyle Weaver. "Alaska ranks as a top five fundraising state for Friends of NRA and we are grateful for leaders like Denny Hamann and his entire committee."
The Most Outstanding Friends of NRA Committee Award is presented annually to the committee that raises the most funds at a single Friends of NRA event. In 2011, the Alaska State Friends of NRA committee raised more than $170,000 in net income. Since its inception in 1995, the committee has raised $812,433 for The NRA Foundation and hosted over 5,000 attendees.
"It is an honor to be recognized for the work our Friends of NRA committee does to raise money for The NRA Foundation," said Hamann. "The best part is when we award the grants. It's great to see how the funds impact shooting sports in Alaska. The more we raise, the more money we can devote to keeping all these programs running. It's just that simple, and we all do our part to make it happen."
Friends of NRA is a grassroots fund-raising program that fosters community involvement, raises money and gives 100% of the net proceeds to qualified local, state, and national programs. Begun in 1993, Friends of NRA has awarded over $180 million dollars to promote shooting sports throughout the United States.
"The Friends of NRA program is something I put a lot of time into. It is so rewarding to see what comes out of it," added Hamann. "Kids nowadays have so many options. Many of them focus on activities that have nothing to do with enjoying the outdoors. By learning what the Second Amendment is all about, they will strive to preserve our heritage and values."
The NRA's National Awards Program was established in the 1980s to recognize the exemplary service of those persons who support the NRA in areas such as legislative affairs, club operations, women's and youth programs, and fund-raising activities.
For more information on Friends of NRA and the Most Outstanding Friends of NRA Committee award, go to www.friendsofnra.org or contact Event Services Manager Jeremy Greene at (703) 267-1354 or [email protected]