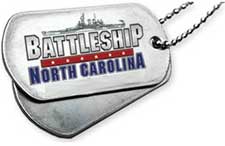 WILMINGTON, NC –-(Ammoland.com)- The Battleship NORTH CAROLINA is launching their newest custom adventure program, Behind the Hatch.
The Ship continues to honor the men and women in service as a site for military ceremonies and are pleased to offer a new program, PME, which provides professional military education.
The Battleship also offers citizens the opportunity to have flags flown from the ship's foremast to honor or memorialize loved ones or commemorate a special occasion..
Behind the Hatch is a private adventure that allows you to explore the Battleship YOUR way. Search through the hidden nooks and crannies from the inner bottom all the way to the top of the fire control tower! For individuals or groups up to eight people, work with the Museum Department to create your dream tour of the Battleship. Spend hours in one compartment, explore sections of interest to you or your group, or simply request the 4-hour Hidden Battleship tour, but for your group only. Perfect for model builders, authors and researchers seeking critical details or loads of fun for a group of friends who enjoy the adventure of custom in-depth exploration.
Program fee is $125 per hour for up to 8 people; additional participants at $15 per hour each for a maximum of 12 people total; fee does not include ship admission. Participants must be at least 12 years old. Available October through May and not on Sundays. Reservations required at least one month in advance and dependent upon staff availability.
New Military Program: Professional Military Education (PME) Program offers interested military groups and NJROTC a three-hour program consisting of rotating small groups through a series of presentations and shipboard exploration.
Presentations and tour include discussions with knowledgeable guides and hands on experience with .50 caliber, 20mm, 40mm, 5-inch and 16-inch guns, climbing up the spectacular 10-story fire control tower for an unforgettable view of the Wilmington area and behind-the-scenes inside the Combat Information Center.
Depending on the group's specialty, such as legal or medical, presentations may include behind-the-scenes look in the ship's archives or other appropriate spaces.
PME program is offered weekdays, October through May and must be scheduled four to six weeks in advance. A minimum of 15 participants are required with a maximum of 48 participants. Fee is $15 per person and does not include ship admission. Confirmation requires pre-payment and a signed contract. Cancellations must be received 48 hours in advance for a full refund, less than 48 hour cancellation receives no refund.
Complimentary Ceremonial Site: The Battleship NORTH CAROLINA is also honored to extend a gratis site for traditional military ceremonies such as re-enlistments, retirements, promotions and memorial celebrations. Usually held on the Fantail of the Ship, inside spaces are available for inclement weather days. Included at no extra cost are chairs, table and podium/sound system. Please call for reservations.
Fly a Flag for a Loved One: The Battleship flies the national ensign daily and is pleased to fly one for you from the ship's foremast on your special occasion or in memory or honor of your loved one. Flags are flown at no charge except to cover shipping fees, if needed. Flown on the specific date of your preference, the flag, provided by you or purchased through the Ship's Store, will fly high above the NORTH CAROLINA and then returned to you with a personalized signed certificate from the Executive or Assistant Director. The Ship should be called for more details.
The Battleship NORTH CAROLINA is self-supporting, not tax supported and relies primarily upon admissions to tour the Ship, sales in the Ship's Store, donations and investments. No funds for its administration and operation come from appropriations from governmental entities at the local, state or federal levels. Located at the junction of Highways 17/74/76/421 on the Cape Fear River. Visit www.battleshipnc.com or follow us on Facebook.com/ncbb55 and Twitter.com/battleshipnc for more information.