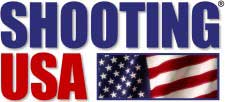 USA –-(Ammoland.com)- Shooting USA's Impossible Shots – Byron is the Lead Dispenser

Byron Ferguson gives a shooting lesson on his secrets for making Impossible Shots with a long bow, but it will be hard to take notes because Byron is shooting the lead out of a pencil.
Then Cisko's seeing double! The Master Gunfighter is drawing two guns at the same time to shoot one target. And things really get tough when the target is moving.
Shooting USA – The USPSA Multi-Gun Nationals
USPSA Multi-gun is a test of each shooters skill with rifle, shotgun and pistol. Competitors will navigate challenging courses of fire with a combination of the three guns and, in some cases, all three. John Scoutten and Mike Irvine have our coverage and analysis of the event. Then it's off to Memphis for an all revolver competition to benefit charity. And a Pro Tip from Julie G. to improve your foot work shooting on the move. More Info…
Wednesday on Outdoor Channel
The Shooting USA Hour:
Eastern Time: 3:30 PM, 8:30 PM, 12:00 Midnight
Central Time: 2:30 PM, 7:30 PM, 11:00 PM
Mountain Time: 1:30 PM, 6:30 PM, 10:00 PM
Pacific Time: 12:30 PM, 5:30 PM, 9:00 PM
Shooting USA is listed as a one hour show in your cable menu.
Shooting USA's Impossible Shots:
Eastern Time: 3:00 PM, 10:30 PM, 2:00 AM
Central Time: 2:00 PM, 9:30 PM, 1:00 AM
Mountain Time: 1:00 PM, 8:30 PM, 12:00 Midnight
Pacific Time: 12-Noon, 7:30 PM, 11:00 PM
Join us Wednesday Night for 90 minutes of Shooting USA Shows, The only TV gun shows airing every week, 52 weeks each year.