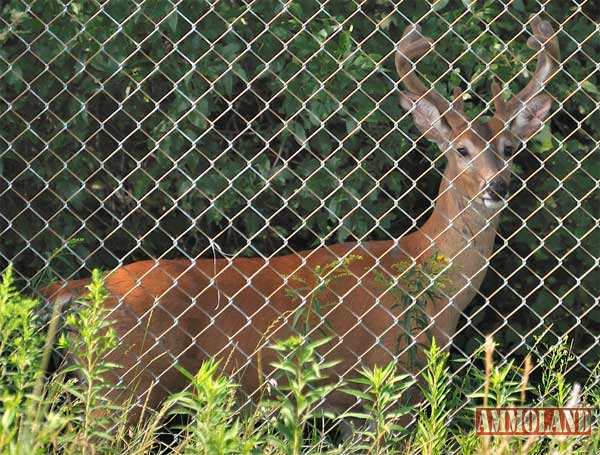 BOGART, Ga. –-(Ammoland.com)-The Quality Deer Management Association (QDMA) is working to convince the organizers of Alabama's "Big Buck Project" – a private effort to release captive whitetail "breeder bucks" into the wild in Marengo County – to reconsider and keep the farm deer behind their fence.
"Releasing captive-bred, farm-raised deer carries significant risks for wild deer, and that's why QDMA opposes this project, and why it's illegal in nearly every state," said QDMA CEO and wildlife biologist Brian Murphy.

"I was shocked to learn that Alabama does not have a law that prevents what is being proposed in Marengo County. Across the nation, wildlife and agricultural agencies have stringent requirements to keep captive deer behind fences because of their potential risks to wild deer. Captive deer have the potential to carry diseases or parasites not present in wild populations, some of them deadly."

"Any time deer are moved across the landscape, risk factors for disease transmission increase," said Dr. Steve Ditchkoff, Professor of Wildlife Science at Auburn University in Alabama.
Another of QDMA's concerns is that the Alabama Division of Wildlife and Freshwater Fisheries (DWFF) was apparently not consulted on the project nor asked to be involved.
"To my knowledge, no one in the Division of Wildlife and Freshwater Fisheries spoke with the project's organizers before it was announced, nor have we been asked to be involved in any manner," said Gary Moody, Chief of Wildlife, Alabama DWFF.
According to the website BigBuckProject.org, beginning in fall 2012, the Big Buck Project led by Tutt Land Company will be releasing captive-bred breeder bucks across Marengo County to "restore 'Record Book Genetics' to the local Whitetail Population."
However, QDMA staff biologists and many other deer experts believe this aspect of the project has little if any chance of success.
"Introducing a small number of breeder bucks into a free-ranging whitetail population is highly unlikely to affect genetics at the population level," said Dr. Ditchkoff. "Not only is survival of captive-raised deer often very low when they are released into the wild, basic science suggests that the genetic impact of a few animals would be quickly diluted."
"This is like trying to change the salinity of the ocean by adding a gallon of fresh water," said Brian Murphy. "If Marengo County isn't producing the quality of deer that hunters expect, it's not because of 'bad genetics' but rather poor deer herd and habitat management.

"If this project proceeds, it would set a dangerous precedent, blurring the line between captive and wild animals and opening a can of worms in Alabama that could quickly lead to similar efforts in other counties," said Murphy. "At the very least, we sincerely hope the Alabama legislature acts quickly to close this loophole and make it illegal to release captive-bred deer into the wild. If not, sooner or later, there will be negative, if not catastrophic, consequences, and Alabama hunters, landowners and residents will be the ultimate losers."
---
About QDMA

QDMA is dedicated to ensuring the future of white-tailed deer, wildlife habitat and our hunting heritage. Founded in 1988, QDMA is a national nonprofit wildlife conservation organization with nearly 50,000 members in all 50 states and Canada. To learn more about QDMA and why it is the future of deer hunting, call 800-209-3337 or visit www.QDMA.com.