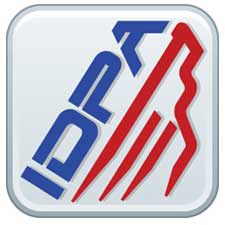 BERRYVILLE, Ark. –-(Ammoland.com)- The International Defensive Pistol Association (IDPA) announced that Remington Arms Company, one of America's oldest and most respected firearms makers, will be a major sponsor of the 2012 IDPA National Championships.
"The name Remington needs no introduction, especially to IDPA members who are more than familiar with this iconic American brand. Dating back to its founding in 1816, Remington's commitment to the shooting sports is measured not in years or decades, but centuries, and we are proud to count them among the major sponsors of this year's IDPA National Championships," said Robert Ray, membership and marketing director for IDPA.
As a gold level sponsor of the match Remington joins a list of the shooting sports industry's who's who, including ACADEMI, Comp-Tac Victory Gear, Cheaper Than Dirt!, CrossBreed Holsters, CZ-USA, GLOCK, GlockTriggers.com, the National Shooting Sports Foundation, Smith & Wesson, Wilson Combat and Woolrich Elite Series.
As part of their support, Remington will sponsor two of the 16 stages in the course of fire at this year's National Championships. Additionally, Remington will be represented in the competition by Carlos Martinez.
The 2012 IDPA National Championships will take place September 19-22 at The Range in Oxford, N.C. As the pinnacle event of the IDPA competitive season, the match will draw more than 300 top shooters vying for the coveted title of National Champion in Custom Defensive Pistol, Enhanced Service Pistol, Stock Service Pistol, Stock Service Revolver and Enhanced Service Revolver, the five divisions in IDPA competition.
Fore more information, or to get started in this fun and exciting defensive pistol shooting sport, visit www.IDPA.com. You can also follow @OfficialIDPA on Twitter, like ShootIDPA on Facebook, watch IDPA TV, or check out the Down Zero Blog to keep up with the latest news.
About Remington Arms Company, LLC:
Remington Arms Company, LLC, ("Remington") headquartered in Madison, N.C., designs, produces and sells sporting goods products for the hunting and shooting sports markets, as well as solutions to the military, government and law enforcement markets. Founded in 1816 in upstate New York, the Company is one of the nation's oldest continuously operating manufacturers. Remington is the only U.S. manufacturer of both firearms and ammunition products and one of the largest domestic producers of shotguns and rifles. The Company distributes its products throughout the U.S. and in over 55 foreign countries. More information about the Company can be found at www.remington.com.
About International Defensive Pistol Association:
Founded in 1996, the International Defensive Pistol Association is the international governing body for IDPA competition which offers shooters a fun, safe, and challenging format to practice and test their gun handling skills through defensive-based scenarios. Today IDPA stands as the fastest growing shooting sport in the United States with over 20,000 members from all 50 states and 54 foreign countries. IDPA's 321 affiliated clubs offer weekly and monthly matches as well as host major championships.