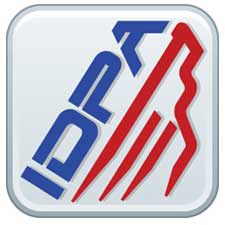 OXFORD, N.C. –-(Ammoland.com)- Randi Rogers of Team Comp-Tac went into the 2012 IDPA National Championships with a perfect undefeated season on the line.
She came out as the International Defensive Pistol Association's Women's National Champion, and that perfect season intact.
Competing in the Stock Service Pistol division where she finished 10th overall among 114 competitors, and placed ninth among the Master class shooters, Rogers posted a final time of 301.99 with 114 points down.
"Randi is one of the most gifted women shooters in all the shooting sports," said Joyce Wilson, executive director for IDPA. "Randi has collected countless titles in several disciplines but we proudest of her accomplishments here in IDPA where she is simply a powerhouse."
Roger's main competition was Michelle Wood, the Master class shooter in all five of IDPA's divisions who fell just 0.72 seconds behind Rogers at the 2012 Carolina Cup. Wood wasn't expected to compete but holstered up at the last minute to make a run at the title in SSP but finished second with 314.22 (112).
Third place among the women went to Colleen Vaccaro in SSP who finished with 369.28 (94). Rounding out the top five were Karyn Byerly, also in SSP, with 377.91 (138) and Tammy Lyne, the top woman in ESP, with 395.06 (157) finishing fourth and fifth respectively.
Coming in sixth among the women was Joanna Lenczewska, the CDP division's top woman shooter with 414.18 (187).
The 2012 IDPA National Championships took place September 19-22 in Oxford, N.C., drawing many of the shooting sports' top pistol shooters.
Fore more information, or to get started in this fun and exciting defensive pistol shooting sport, visit www.IDPA.com. You can also connect with IDPA online by following @OfficialIDPA on Twitter, like ShootIDPA on Facebook, watch IDPA TV, or check for regular updates on the DOWN ZERO Blog.