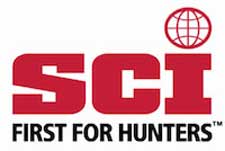 Washington, D.C. –-(Ammoland.com)- Safari Club International (SCI) will co-host the VIP Reception and the 23rd Annual Congressional Sportsmen's Foundation (CSF) Banquet and Auction Gala on Wednesday, September 19 at the Hyatt Regency on Capitol Hill.
"As a Diamond Sponsor of Congressional Sportsmen's Foundation, we are proud to once again help host the largest gathering of sportsmen and women in Washington, DC.," said SCI President John Whipple.

"For nearly 25 years, CSF has maintained a vision that has delivered bi-partisan trust to the hunters and anglers who recognize the importance of federal policy on their outdoor heritage."

"CSF's leadership allows for bi-partisan and bi-cameral legislation to move through an otherwise divided Congress," concluded Melissa Simpson, SCI Director of Government Affairs and CSF Board Member.
The annual banquet represents one of the largest gatherings of policymakers, sportsmen's organizations, conservationists, alongside the fishing, firearms and ammunition, and angling industry representatives.
To learn more about the incredible bi-partisan efforts of the Congressional Sportsmen's Foundation, please go to www.sportsmenslink.org.
About the Hunters' Defense Fund:
Safari Club International Hunters' Defense Fund supports the important advocacy, conservation and legal work keeping hunters afield and promoting hunting worldwide. Donations to the Hunters' Defense Fund have a direct impact on our freedom to hunt, wildlife conservation policy and important legislative, regulatory and legal issues. DONATE NOW: www.hunterdefensefund.org
Becoming an SCI Member:
Joining Safari Club International is the best way to be an advocate for continuing our hunting heritage and supporting worldwide sustainable use conservation, wildlife education and humanitarian services. JOIN NOW: www.safariclub.org/Join.
Safari Club International – First For Hunters is the leader in protecting the freedom to hunt and in promoting wildlife conservation worldwide. SCI's approximately 200 Chapters represent all 50 of the United States as well as 109 other countries. SCI's proactive leadership in a host of cooperative wildlife conservation, outdoor education and humanitarian programs, with the SCI Foundation and other conservation groups, research institutions and government agencies, empowers sportsmen to be contributing community members and participants in sound wildlife management and conservation. Visit the home page www.safariclub.org or call (520) 620-1220 for more information.