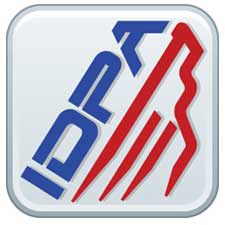 OXFORD, N.C. –-(Ammoland.com)- Scott Warren captured the Senior National Championship title at the 2012 International Defensive Pistol Association National Championships this past weekend in Oxford, N.C.
Going up against some of the best Senior shooters in the nation, Warren finished sixth overall in the Enhanced Service Pistol division with 264.96 and 79 points down giving him the top time among Senior shooters in all five divisions.
"When you look at the contest for Senior National Champion you know that Scott will be in the hunt and right there among the top shooters. This year he outshot an extremely talented group of competitors to prove he's not just among the best, but is the best," said Joyce Wilson, executive director for IDPA.
Coming in behind Warren in second place was the defending champion Tom Yost of Team Panteao. Yost, who competed in the Stock Service Pistol division, finished the match with a final time of 274.94 with 89 points down.
Third place in the Senior contest went to Matt Sims in the Custom Defensive Pistol division with 292.08 (70). Fourth place went to Team Smith & Wesson's Jerry Miculek, the 2012 Enhanced Service Revolver National Champion, with 298.12 (75). Rounding out the top five was Bill Go of the ACADEMI shooting team who competed in SSP and finished with 305.80 (73).
Gregg Kratochvil took top senior honors in the Stock Service Revolver division with a time of 371.38 and 93 points down.
The 2012 IDPA National Championships took place September 19-22 in Oxford, N.C., drawing many of the shooting sports' top pistol shooters.
Fore more information, or to get started in this fun and exciting defensive pistol shooting sport, visit www.IDPA.com. You can also connect with IDPA online by following @OfficialIDPA on Twitter, like ShootIDPA on Facebook, watch IDPA TV, or check for regular updates on the DOWN ZERO Blog.