Sentry Solutions' Oil-Free Knife Care Partners with Olamic Cutlery's Fine, Handcrafted Knives.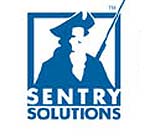 WILTON, NH –-(Ammoland.com)- Sentry Solutions and Olamic Cutlery of Mountain View, CA, have partnered for mutual promotion of their brands.
Olamic Cutlery joins the likes of Chris Reeve Knives, William Henry Knives and Brownells by offering cobranded sample TUF-CLOTH to their customers and fans.Sentry Soltuions Sample Tuf-Cloth
Olamic Cutlery is a young brand of hunting, semi-custom and Damascus knives founded by father Ilya and son Eugene Solomonik in October 2010. The Solomonik family has a long history of outdoor adventuring and surviving in Russia's Northwestern region, "Karelia." Olamic's aim is to make knives with an authentic Russian feel.
Their knives are 100% handmade by craftsmen in the historic epicenter of Russia's metalworking industry. All grinding is done on stone wheels and Olamic uses only proven Russian high-carbon vanadium Damascus. Eugene Solomonik explained the Olamic philosophy, "Olamic means 'something lasting through eternity' and that is exactly what we've set out to do. Our goal is to employ lessons from the rich history of man's oldest tool and modern knife technology to provide a superior product both for utility and collecting. Each knife is forged and assembled by the hand of a veteran artisan. After all, a blade makes the knife, but a man makes Olamic's blades."
Olamic CutlerySentry Solutions is best known for starting the Oil-Free Gun and Gear Care Revolution by introducing TUF-CLOTH. A simple to use specially impregnated cloth; TUF-CLOTHs' remarkable performance continues to attract the attention of artisans, adventurers, Warriors and First Responders the world over. Mark Mrozek of Sentry Solutions commented, "I never thought our products would lead to so many fascinating relationships. Long ago I got used to being humbled by our fans; with more than 60,000 troops using TUF-CLOTH in place of military issue CLP during the Wars, there were plenty to draw on.
We didn't realize the protective powers of TUF-CLOTH for Damascus steel would encourage artisans to become avid supporters. Now they humble me too, I still can't get my brain around the patterns folks at Olamic and William Henry create in Damascus Steel."
Sentry Solutions also makes the Gear Care Kit – Field Grade and the Gear Care Kit – Field Grade Tin that includes everything you need to keep knives sharp and protected from the elements.Tuf-cloth
For more information about Sentry Solutions and Olamic Cutlery:
http://www.sentrysolutions.com/mm5/merchant.mvc?Screen=ABOUTUS&Store_Code=SENTRY
http://www.olamiccutlery.com/index.php//company-brief
About Sentry Solutions:
Sentry Solutions, was incorporated in 1993. Since then, Sentry Solutions has developed dry lubrication products used by the U.S. Military Forces, government agencies, state and local law enforcement agencies as well as hunters, sportsmen and mariners. Sentry Solutions' Tuf-Cloth™ and Tuf-Glide™ products have become the benchmark for the care and preservation of firearms and sports equipment worldwide. www.sentrysolutions.com
Facebook: http://www.facebook.com/SentrySolutions.com
YouTube: www.youtube.com/SentrySolutions4u
Twitter: www.twitter.com/OilFreeGearCare