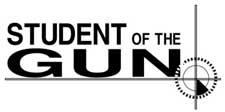 LUVERNE, AL –-(Ammoland.com)- It's never too soon to prepare for a natural disaster.
The Student of the Gun crew was right in the middle of Hurricane Isaac last week and has some serious storm preparation tips to offer as well as exclusive video footage of the storm.
In the hardware department we take a close look at rifle training with Tips from Todd Jarrett and Paul offers up a new One Box Workout for rifles to help you make the most of your range time and ammunition. Lastly, we take some Jello Shots SOTG style and see just how bullets perform when fired into ballistic gelatin.
All of the new episodes of Student of the Gun will be available for instant viewing by simply going to http://www.studentofthegun.com.
"During the first two seasons we were constantly asked if our shows were available online. For SOTG 3.0 we will be putting each and every one of the 26 new episodes online for all to see." said Paul Markel host and producer. "The feature episode for each week will be up for viewing each Tuesday evening."
Paul Markel c 2012
Follow Paul Markel at Student of the Gun.com .