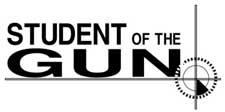 LUVERNE, AL –-(Ammoland.com)- Student of the Gun is about more than entertainment, it's about education.
The crew and instructors are excited to offer professional firearms training and education via SOTG University.
The Fall Semester is fast approaching and Student of the Gun is now offering a special Scholarship Package.
Go to www.studentofthegungear.com and choose the Scholarship Package. Each package contains – AR15: Black Rifle Boot Camp DVD, "Student of the Gun" eBook, official SOTG black T-shirt, and a Scholarship Certificate. The retail value of the gear alone is over $60.00. You receive a 20% savings over buying the items separately. The Scholarship Certificate included with each package and is valid for $50 tuition credit for an individual course or $100 tuition credit for the complete Fall Semester. When you add it up it's like getting all the official SOTG gear for free.
"We want people to understand that owning a gun is only part of the equation." said Paul Markel, host of SOTG and veteran firearms instructor. "Student of the Gun has always been about education, enlightenment, and entertainment. Through SOTG University we are able to interact one on one with genuine Students of the Gun and this Scholarship Package makes it even easier to take advantage of the professional firearms training we offer."
All of the new episodes of Student of the Gun will be available for instant viewing by simply going to http://www.studentofthegun.com. "During the first two seasons we were constantly asked if our shows were available online. For SOTG 3.0 we will be putting each and every one of the 26 new episodes online for all to see." said Paul Markel host and producer. "The feature episode for each week will be up for viewing each Tuesday evening."
Paul Markel c 2012
Follow Paul Markel at Student of the Gun.com .