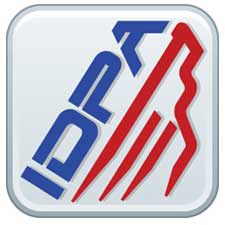 OXFORD, N.C. –-(Ammoland.com)- When he wasn't carrying a revolver Team Smith & Wesson's Jerry Miculek was carrying an umbrella as he shot his way through a downpour at the 2012 IDPA National Championships to win, once again, the Enhanced Service Revolver title.
Miculek is ranked a Distinguished Master by the International Defensive Pistol Association but is widely recognized around the world as the best revolver shooter ever, and his string of consecutive ESR division titles bears that out. He won this year's National title with a time of 298.14 seconds and 75 points down.
"There is nobody in the shooting sports like Jerry Miculek. Besides being a once-in-a-lifetime shooting talent, Jerry is above all an ambassador for the sports he competes in and the companies he represents," said Joyce Wilson, executive director of IDPA.

"While most top shooters would leave the range immediately after shooting in the rain, Jerry stayed behind and spent time talking to the match staff and volunteers. That's why you'll never find an IDPA club or match where Jerry Miculek isn't warmly welcomed."
Taking on a wheelgun icon isn't easy but that didn't stop those from trying. Finishing second to Miculek was Team RangeLog's Toni Dandreamatteo, the only ESR Master competing, who posted a time of 396.26 with 167 points down. First ESR Expert went to Irvin Earles with 526.95 (224), while first Sharpshooter went to Emilio Franco, Jr. with 414.94 (127) and Raymond Duroy, the only ESR Marksman, finished with 542.88 (245).
The 2012 IDPA National Championships took place September 19-22 in Oxford, N.C., drawing many of the shooting sports' top pistol and revolver shooters.
Fore more information, or to get started in this fun and exciting defensive pistol shooting sport, visit www.IDPA.com. You can also connect with IDPA online by following @OfficialIDPA on Twitter, like ShootIDPA on Facebook, watch IDPA TV, or check for regular updates on the DOWN ZERO Blog.