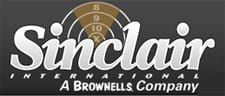 Des Moines, Iowa – -(Ammoland.com)-  Adding to their undefeated resume, Team Sinclair Internationalhas posted their fifth championship in U.S. F-Class Nationals competition at the NRA's Whittington Center in Raton, NM, on September, 20, 2012.
The team, consisting of firing members, Paul Phillips, Brad Sauve, Jeff Rorer, Derek Rodgers and wind coach, Ray Gross, toppled 12 other teams representing the best precision shooters from the U.S., South Africa, Australia, and Canada.
Boasting the highest attendance of any F-class nationals, the 2012 competition was made up of dual 1,000-yard matches where teams vied for victory by attempting to shoot the perfect cumulative score – 800 points.
Team Sinclair's aggregate score of 790-31x, which indicates an overall score of 790 points with 31 X-ring (center) shots, was good enough to earn them not only the win, but a U.S. National Record (pending NRA approval) for 1,000-yard F-Class shooting competition.
"We're grateful for Sinclair International's support," said the team in a joint statement. "All of us use Sinclair's precision shooting components and reloading supplies when preparing for these events. We need products of the highest quality and consistency for us to succeed. We've never been defeated, and that's a testament to Sinclair International."
The members of Team Sinclair International have been competing together since 2007, adding its newest member, Jeff Rorer, in 2009. They have never been defeated in professional-level competition.
Sinclair International is the world's premier supplier of high-quality reloading tools, components, ammunition and accessories, plus unique competitive shooting and hunting supplies. A member of the Brownells Group since 2007, Sinclair International stocks more than 15,000 items and supplies handloaders, shooters and hunters worldwide. To place an order, or for additional information, call 800-717-8211 or visit www.sinclairintl.com.