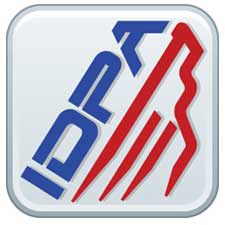 OXFORD, N.C. –-(Ammoland.com)- For the sixth straight year IDPA's only three division Distinguished Master, Bob Vogel, has claimed the title of IDPA's 'Top Gun' winning the Stock Service Pistol division title at the International Defensive Pistol Association's 2012 National Championships.
The Panteao Productions-sponsored shooter not only outgunned the entire field of 340+ shooters by 30 or more seconds this past weekend, but also claimed the title of Most Accurate to go along with his SSP win.
Vogel finished the match with six stage wins and a time of 206.62 seconds with just 31 points down over 16 extremely challenging shooting stages.
"The course design at the 2012 IDPA Nationals was technically very difficult and presented a serious challenge for even the most accurate of shooters.

Apparently it wasn't difficult enough as Bob made it look easy while picking up his sixth consecutive IDPA National title and extending an IDPA unbeaten streak that dates back to 2007," said Joyce Wilson, executive director for IDPA.
Finishing second in the division and taking first Master was Team RangeLog's Rob Tate with a time of 254.23 and 76 points down. Tom Yost, the captain of Team Panteao, finished second Master, as well as top Senior within the division, with 274.94 (89). Rounding out the top five were David McDonald with a time of 276.20 (69) to place third Master and Deon Martin taking fourth Master with 284.10 (60).
Also taking top honors in the SSP division were Team Comp-Tac's Randi Rogers who once again won High Lady while finishing ninth Master with 301.99 (114), and Nelso Lopez Iglesias of Venezuela who was the division's top international shooter with 332.01 (95). Jon Antrim topped the Expert class with 323.54 (115), Brandon Chin was first Sharpshooter with 360.02 (157) and Randy Smith took home first Marksman honors with 412.93 (80).
The 2012 IDPA National Championships took place September 19-22 in Oxford, N.C., drawing many of the shooting sports' top pistol shooters.
Fore more information, or to get started in this fun and exciting defensive pistol shooting sport, visit www.IDPA.com. You can also connect with IDPA online by following @OfficialIDPA on Twitter, like ShootIDPA on Facebook, watch IDPA TV, or check for regular updates on the DOWN ZERO Blog.