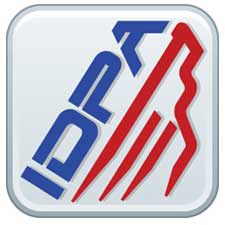 OXFORD, N.C. –-(Ammoland.com)- Glenn Shelby of the Wilson Combat shooting team made it two in a row with his win this past weekend in the Custom Defensive Pistol division at the 2012 International Defensive Pistol Association (IDPA) National Championships.
Shelby, who is one of the few Distinguished Masters in IDPA, captured the title for the second year in a row by posting a final time of 248.48 seconds and finishing as the fourth most accurate shooter in the match with just 44 points down.
"Glenn is a truly outstanding shooter who faced an uphill battle in defending his 2011 title win, especially against such a strong contingent of top level CDP competitors," said Joyce Wilson, executive director of IDPA.
Second place in the division went to another Distinguished Master, Team Smith & Wesson's David Olhasso, who finished with a time of 250.23 (42). Third place and first Master honors went to Gary Byerly of Team ITI, this year's Carolina Cup winner, who finished with 266.17 (69).
Chris Chamberlain took fourth in the division and second Master with 286.70 (69), while Matt Sims claimed third Master with 292.08 (70) to finish fifth overall and the division's top Senior competitor.
Elsewhere in CDP, Chris Donovan took first Expert with 299.20 (60), first Sharpshooter went to Joel Garner with 372.99 (106), and David Galante took home first Marksman with 461.53 (153).
Alberto Soto of Costa Rica finished as the top International competitor in CDP with 334.65 (112) and Joanna Lenczewska placed as the division's top Lady with 414.18 (187).
The 2012 IDPA National Championships took place September 19-22 in Oxford, N.C., drawing many of the shooting sports' top pistol shooters.
Fore more information, or to get started in this fun and exciting defensive pistol shooting sport, visit www.IDPA.com. You can also connect with IDPA online by following @OfficialIDPA on Twitter, like ShootIDPA on Facebook, watch IDPA TV, or check for regular updates on the DOWN ZERO Blog.