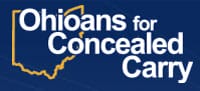 Ohio –-(Ammoland.com)- Buckeyes for Concealed Carry would like to invite you to their Italian family style dinner celebration in honor of their first birthday on November 10, 2012 at Giammarco's in Westerville.
Get your tickets and get them quickly! This exclusive dinner will sell out fast!
They will be joined by Ms Nikki Goeser. Nikki is the NRA's 2012 Sybil Ludington Women's Freedom Award Winner. She helped restore the right to self-defense in restaurants and other liquor serving establishments in Tennessee and Ohio. She is a champion of campus carry and is working to restore the right to carry a concealed firearm onto college campuses in Tennessee.
Nikki's story is a perfect example of how laws and policies make victims out of law-abiding citizens. She will share her story. She will also offer insight into how we can restore the right to self-defense on college campuses in Ohio.
This dinner is kicking off our lawsuit fundraising efforts. Even with pro-bono attorneys, lawsuits cost lots of money. Attending will help us challenge OSU's violation of ORC 9.68.
Tickets are only $50 each and are very limited. Not only will you be able to help challenge policies and laws that empower criminals, but you will also enjoy an intimate evening with national and statewide Second Amendment heroes including Nikki, Ohio lawmakers, and NRA board member Linda Walker.
The family style Italian dinner at Giammarco's will include salad, rolls, fettuccine alfredo, and spaghetti with meatballs or sausage. Non-alcoholic drinks will be served as part of the dinner and cocktails will be available for purchase. Doors open at 6:00 p.m. and dinner will be served at 6:30 p.m.
Click here for more details!
About:
Ohioans for Concealed Carry, founded in 1999, is a grassroots political activist organization. When founded, the primary goal of OFCC was getting concealed carry passed into law in Ohio. With that accomplished, our mission became to refine the concealed carry law and to expand and preserve the rights of all gun owners in Ohio. Visit: Ohioccw.org