MC47 7.62X39 Magazine Coupler for the Ak47. Polymer Made.Are you looking for more cool gear options for your AK 47 or AK-74 rifle, then you might like to read our review of the best AK 47 Accessories.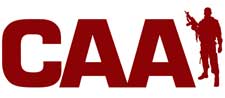 Tullytown, PA –-(Ammoland.com)- CAA is proud to introduce their new AK 47 Magazine Coupler, the MC47.
This coupler rigidly holds two AK47 7.62×39 magazines together, doubling the magazine capacity and saving precious reloading time.
The robust and durable design weighs only 2.11 ounces.
The MC47's unique design features spring-loaded screws making magazine insertion easy. The external surfaces of the coupler are checkered and beveled to provide a firm, comfortable, and secure grasp for the operator. Wide spacing between the coupled magazines allows for the use of most reloads. Manufactured from high-density polymer for a lifetime of rugged use.
Shop for Command Arms Accessories.
The magazines can be mounted in the coupler with either the feed lips of both magazines in the same direction or with the feeds of the magazines at opposite ends of the coupler.
New AK47 mag coupler saves precious reloading time and expands ammunition capacity.
Each magazine can be placed in a different height.
Wide gap – makes it easy to reload.
Mad of high density polymer – very light.
Will not scratch or deform magazines.
Screw tightened.
No Gunsmith required * Mill-standard * Warranty: 10 years
About:
Command Arms, CAA Tactical and EMA Tactical are the world's leader in the development and manufacture of advanced, superior arms accessories.. Visit:www.commandarms.com