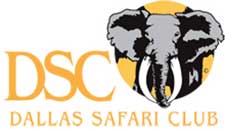 DALLAS –-(Ammoland.com)- Three months from today, the Dallas Safari Club (DSC) convention and expo will welcome hunters from around the globe to a new year of outdoor adventures. The four-day event—Jan. 3-6—offers 2013's first opportunity to book the best hunts and best dates with top outfitters. Attractions also include world-class sporting gear, firearms, art, collectibles, entertainment, seminars, auctions and more.
The public-welcome expo is slated for the Dallas Convention Center. For registered attendees, additional events, galas, awards and fundraisers will be held at the Omni Hotel Dallas.
Details are available at www.biggame.org.
"Like deer season, turkey season and all the rest, hunters look forward to show season, too. The first quarter of each year sees many kinds and sizes of shows held across the nation, but ours is always first and our goal is to make it the best," said DSC Executive Director Ben Carter.
If event metrics are an indicator of success, DSC and its army of volunteers are accomplishing their goal. The show is on an impressive run of new records for size, attendance and fundraising.
In 2012, exhibitors offered nearly nine football fields' worth of attractions and drew more than 40,000 attendees. With auctions and other fundraising, the event generated more than $1 million for DSC grants to support conservation, education and hunter advocacy efforts worldwide.
Carter expects additional growth in each of these areas in 2013 as well.
Weatherby Foundation International recently announced that its prestigious Weatherby Award will be presented in conjunction with the DSC convention and expo beginning in 2014.
Sponsors for the 2013 DSC convention and expo include Orion, Sports Afield, Midway USA, Trijicon, The Hunting Consortium, Capital Farm Credit, Zeiss, The Wildlife Gallery, Ruger, Rock Island Auction Co., Sovereign Bank, EuroOptics, Rungwa Game Safaris, RBC Wealth Management, Yamaha, Blaser and others.
About Dallas Safari Club (DSC)
Desert bighorns on an unbroken landscape, stalking Cape buffalo in heavy brush, students discovering conservation. DSC works to guarantee a future for all these and much more. An independent nonprofit organization since 1982, DSC has become an international leader in conserving wildlife and wilderness lands, educating youth and the general public, and promoting and protecting the rights and interests of hunters worldwide. Get involved at www.biggame.org.