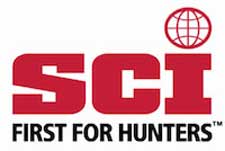 Tucson, Ariz. –-(Ammoland.com)- The world's greatest convention dedicated to North American and international hunting will open its doors on January 23, 2013 to begin the 41st Annual Safari Club International Hunters' Convention.
Every year, the evening entertainment at the SCI convention is a star studded gala. The 2013 Hunters' Convention will feature world-famous entertainers including country music legends Montgomery Gentry, Travis Tritt, and Artie Dean Harris.
"Safari Club International's membership has come to expect the highest quality of big-name entertainment at every SCI Convention," said SCI President John Whipple. "SCI's evening banquets feature not only the best entertainment in the industry but the most prestigious hunting expeditions, safaris, and firearms ever auctioned."
The entertainment lineup begins on Wednesday, Jan. 23 with country music legend Travis Tritt. Featured auction items on Wednesday include a 5-day New Zealand red stag hunt and taxidermy for two hunters donated by Spey Creek Trophy Hunting of New Zealand. Friday, Jan. 25 will play host to the double feature of Artie Dean Harris at the Sables Luncheon, and a performance from Montgomery Gentry headlining that evening. Featured auction items for Friday night include a 13-day Cameroon lord derby eland hunt for one hunter and one observer donated by the Mayo Oldiri Safaris.
Thursday's show kicks off with SCI's "Night of The Hunter" cocktail reception which will be followed by an act from the Bar J Wranglers. This new reception replaces the Thursday night dinner and will be an array of hors d'oeuvres, carving stations and cocktails set in a festive atmosphere. An exciting lineup of evening auction hunts and items will lead into the SCI Major Awards program. This program honors hunters, our hunting heritage and top species taken in the last 24 months as well as recognizes 2012's hunting accomplishments.
"The uncompromising dedication to bring the best evening entertainment and highest quality hunting safaris to the SCI membership is why the SCI Hunters' Convention has been recognized as one of the top 25 fastest growing conventions in the U.S.A by Trade Show News Network," concluded Whipple.
Learn more about the performers and about the 41st Annual Hunters' Convention events visit www.ShowSCI.org. Register now to take advantage of any advance ticket/registration early bird special rates! Tickets for the 2013 evening entertainment are being sold faster than any show in SCI history.