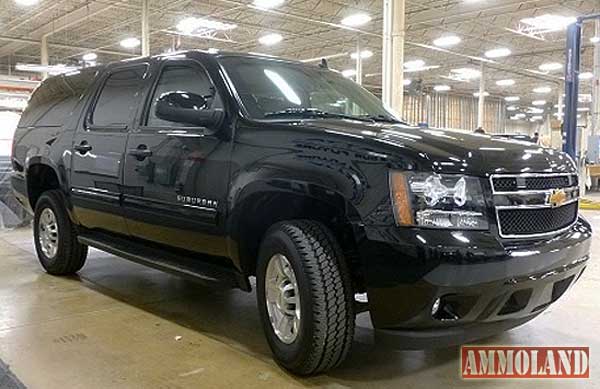 SHACKLESFORD, VA –-(Ammoland.com)- G4S International Training, Inc. (G4S ITI), a subsidiary of G4S Government Solutions, and providers of benchmark security training programs to the U.S. Government, U.S. Military and corporate America, has recently partnered with Scaletta Armoring, makers of the most advanced armor systems, to provide driver training to individuals who need to be certified in Armored Passenger Vehicle Operations at G4S ITI's Virginia facility, located in Shacklefords, Virginia.
Scaletta Armored Passenger Vehicle "G4S ITI is very excited to be teaming with Scaletta Armoring. We will be offering driver training as a package deal for individuals needing to be certified in Armored Passenger Vehicle Operations. So now, not only can Scaletta Armoring offer state of the art armored vehicles, they can offer top of the line training to go with it," commented Rob Middaugh, Vice President of G4S ITI. "We hope this teaming will give security companies the equipment and the training needed to complete their missions."
G4S ITI's Armored Passenger Vehicle Operations course is taught with armored Chevy Suburbans manufactured by Scaletta Armoring. This course benefits students by giving them the opportunity to drive vehicles in training that they will ultimately drive while at work. Students learn how the vehicle handles in starting and stopping, high speeds, as well as turns and elevation changes. Instructors also take the time to show how armored passenger vehicles are built and where the vulnerabilities are.
"Scaletta Armoring is proud to be partnering with G4S ITI," says Suzanne Scaletta, President of Scaletta Armoring. "We've long respected the critical training they provide. Our partnership is a logical extension of the work we both do to help protect the lives of people around the world."
About G4S International Training, Inc. (G4S ITI):
G4S International Training Incorporated (G4S ITI) is the training division for G4S. Founded in 1989; ITI is committed to providing benchmark security training programs emphasizing professionalism, quality, customer service, and a fair price. ITI conducts both mobile and fixed site training in security assistance and security service programs for the U.S. Government, U.S. military, corporate America, and now private citizens. For more information on ITI or any of their courses, log on to www.g4siti.com.
About Scaletta Armoring:
Scaletta Armoring is a leading international manufacturer of armored passenger vehicles for government and corporate personnel protection. Located in Chicago, Scaletta is the longest-serving USDOS approved armoring company under the same ownership. Its offerings include an array of armored platforms and custom-engineered survivability solutions. Scaletta is a women-owned small business (WOSB). More information can be found at www.scaletta.com.