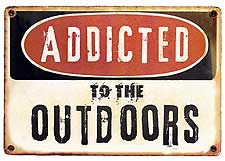 PORTSMOUTH, NH – -(Ammoland.com)- This week on Addicted to the Outdoors, Jon and Gina Brunson and their Limbsaver bows chase big Nebraska mule deer at one of their favorite destinations: Deer Meadows Outfitters.
Joining them is NBA superstar Brad Miller, who's excited about his first-ever hunt in the Cornhusker State.
On previous hunts at Deer Meadows, everyone has tagged out the first day, so tune in and see whether or not they can keep the tradition going!
Join Jon and Gina Brunson on their reality-based outdoor show as they travel the world chasing big game. In 2007, Jon and Gina packed their six children into an RV for a Florida to South Dakota road trip and whitetail hunt. It was the first show for their newest venture, Addicted to the Outdoors, which features a revolutionary format that takes viewers along with them as they pursue all sorts of game. Choosing a name for the new show was easy, since Jon, Gina and their children are all Addicted to the Outdoors. Are they living the dream? Yes, their particular dream, where a man, his wife and their children together explore those wandering streams and forested trails of the outdoors.
Learn more at www.wildcomm.com/addictedtotheoutdoors and www.addictedtotheoutdoors.com.
2012 Quarter 4 Weekly Show Lineup
Week 4: Africa Safari Part I
Week 5: Country Goes Huntin' turkey hunt
Week 6: Indiana whitetails
Week 7: Monster Missouri whitetails
Week 8: Kansas/Iowa whitetail doubleheader
Week 9: Florida turkey/hog/bowfishing combo
Week 10: Africa Safari Part II
Week 11: Illinois whitetails
Week 12: Kentucky catfish noodlin'
Week 13: Season 5 Sizzle Reel
Outdoor Channel Airtimes
Wednesday 11:00 AM EST
Thursday 6:00 PM EST
Sunday 5:00 PM EST