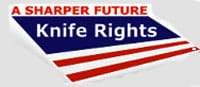 Gilbert, AZ –-(Ammoland.com)- Knife Rights Founder and Chairman Doug Ritter was given the 2012 Bill of Rights Award by the Citizens Committee for the Right to Keep and Bear Arms on September 29, at the Gun Rights Policy Conference in Orlando, Florida.
The unexpected honor was presented by CCRKBA Chairman Alan Gottlieb.
Gottlieb said, "Doug Ritter's pioneering efforts in defense of our Second Amendment knife rights are making a real difference, as out of control government bureaucrats in places like New York City are discovering.

After seeing other countries demonize knives and severely restrict citizens' rights, Doug had the foresight to found Knife Rights now, to prevent that from happening here. This award is given in recognition and appreciation of Doug's passionate and tireless efforts pursuing an aggressive agenda of litigation and legislation in an arena that he has popularized as the Second Front in Defense of our Second Amendment."

Ritter said, "I am deeply honored to receive this award. Our work would not be possible without the strong support of many individuals and organizations. This award belongs equally to all those who have provided financial, legislative and personal support, with special appreciation for my wife, Sue, without whom none of this would be possible."
The Award acknowledges Ritter's "powerful public defense of the constitutionally-protected…fundamental right to keep and bear arms…"
Ritter also spoke on the GRPC "Many Faces of the Second Amendment" panel where he reviewed the progress Knife Rights has made and where the organization is headed in the year ahead:
FULL TEXT of the AWARD:
Bill of Rights Award 2012

In recognition and appreciation for a powerful public defense of the constitutionally-protected individual right, and for bringing continued attention to the fundamental right to keep and bear arms as affirmed by the Second Amendment for recreation, utility, personal protection and community safety, the

Citizens Committee for the Right to Keep and Bear Arms is pleased to present this Bill of Rights Award to

DOUG RITTER

Presented this 29th day of September 2012 at the 27th Annual Gun Rights Policy Conference,

Alan M. Gottlieb
Chairman
ABOUT CITIZENS COMMITTEE FOR THE RIGHT TO KEEP AND BEAR ARMS
The Citizens Committee for the Right to Keep and Bear Arms is dedicated to protecting your Secodn Amendment rights. Our role is to educate grass root activists, the public, legislators and the media. Our programs are designed to help all Americans understand the importance of the Second Amendment and its role in keeping Americans free. https://www.ccrkba.org
ABOUT KNIFE RIGHTS AND THE KNIFE RIGHTS FOUNDATION
Knife Rights is America's grassroots knife owners organization and supports legislative initiatives to eliminate irrational restrictions on one of man's oldest and most common tools, decriminalize knife possession and advance the civil rights of America's knife owners.
The Knife Rights Foundation works to educate, inform and protect knife owners, pursuing litigation in support of knife owners' civil rights when necessary.
Both Knife Rights and the Knife Rights Foundation (www.KnifeRights.org) are dedicated to a Sharper Future for all Americans. Visit www.kniferights.org