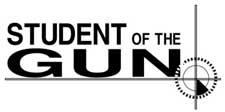 LUVERNE, AL –-(Ammoland.com)- We've already given out 6 guns to 6 lucky winners.
Only one week remains until the drawing for the SOTG 3.0 Gun Giveaway Grand Prize.
At the close of business on Monday October 15, 2012 one lucky winner will be chosen to receive a KRISS USA Vector Carbine Package.
To be eligible for the contest go to www.studentofthegun.com and sign up for the SOTG newsletter. Those who have already signed up can earn bonus entries every time they make a purchase at www.studentofthegungear.com All of our active subscribers and SOTG customers are eligible.
The Vector operating system is one of the most unique and advanced to come along in the last hundred years. The KRISS sub-machine gun, special duty pistol, and carbine all fire the .45ACP cartridge and use the Vector system. Find out more by going to www.krissusa.com
Being a Student of the Gun represents a life-long pursuit of education and enjoyment of firearms and related subjects. StudentoftheGun.com is your 24/7 source for all manner of gun related topics. SOTG offers education and entertainment through on-demand video material, online articles, books, DVD's and live-training events. Student of the Gun; a beginner once, a student for life.
Paul Markel c 2012
Follow Paul Markel at Student of the Gun.com .