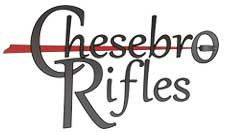 USA –-(Ammoland.com)- After more than 60 years as a competitive target shooter and gunsmith, McLane (Mac) Tilton, proprietor of MT GUNS, is passing the baton to his chief gunsmith/machinist, Mark Chesebro and Chesebro rifles.
"Mark has acquired the assets of MT GUNS and will be its successor. I'm very pleased that Mark is establishing Chesebro Rifles and that he will continue to provide highest quality competition target rifles in the tradition of MT GUNS," Tilton announced today.
Tilton expressed his complete confidence in Mark's ability to provide a seamless transition for MT GUNS customers.
"He attended the well-respected gunsmithing course at Yavapai Community College in Prescott, Arizona, followed by four years with Bill Atkinson at H.S. Precision, where he perfected techniques in chambering and rifle smithing. After eight years of general gunsmithing in Everett, Washington and as an aerospace machinist, tool maker and CNC programmer, Mark relocated to Arizona, where he joined the team at Ruger. He came to MT GUNS in 2004 and we were very impressed with his inventive capabilities.

"In 2006, Mark and his wife, Lisa, answered a call from their church to fulfill a three-year teaching mission in Ecuador. When he returned in 2009, he rejoined our team at MT GUNS and has continued to develop his innovative ideas and techniques, including the development of a press to insure perfect alignment when rebarreling Anschutz rifles, as well as a centerfire conversion for BSA Martini rifles. He has also developed an entire system for converting the Anschutz 54 action from a single shot to a magazine-fed repeater. Also, he's mastered the critical alignment when bedding Vee Blocks for Barnard and Anschuetz actions."
Chesebro Rifles will continue to build competitive Palma, F-Class, and Benchrest rifles using the Barnard action, as well as the very successful BSA and Anschuetz Rimfire Bench Rifles.
Contact for Mark Chesebro at Chesebro Rifles is: [email protected] Or visit www.chesebrorifles.com, 805.280.5311