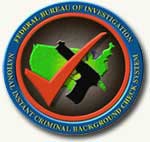 Washington, DC –-(Ammoland.com)- Notification of NICS Section Process Modifications for tomorrow, Saturday, October 20, 2012:
Again, the NICS Section forecasts an extraordinarily busy day tomorrow and will not be receiving Customer Service phone calls today from 11:00 am to 7:00 pm EST.
These types of calls include but are not limited to:
NICS transaction status checks
Appeal or Voluntary Appeal File related questions
General NICS related questions
This modification has been put into place to process the incoming NICS background checks as efficiently as possible.
If you have a Customer Service related question, please contact the NICS Section outside of the hours listed above. During the 2012 Busy Season please be prepared for these types of modifications so the NICS Section can process your NICS background checks in a timely manner.
This is the perfect opportunity, for the FFL, to enroll with the NICS E-Check. To learn more about enrolling with the NICS E-Check visit the NICS FFL Web site.  ( http://www.fbi.gov/about-us/cjis/nics/ )
By doing so, you can check the status of all your NTNs, 24 hours a day, seven days a week. Also, to receive notification of these modifications and messages/updates pertaining to NICS, sign up to receive NICS Messages by visiting the NICS FFL Web site listed above.