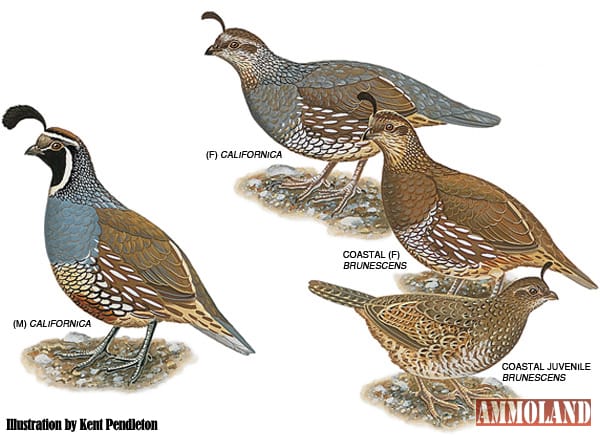 Oregon –-(Ammoland.com)- Looking to get a last chance hunt in?
Not sure where to go? Vast numbers of Mountain Quail inhabit the regions of Southern Oregon. Mountain Quail may be the toughest of all quail species to hunt.
With their unwillingness to fly and desire to run combined with steep and often bushy terrain it can seem daunting when chasing these birds.
Hunting Mountain Quail through January has weather that can range from dry and dusty to a foot of snow on the ground depending on when you visit.
It is best to get you and your dogs, if you are bringing your own, in shape before making this hunt. While you won't need to climb a mountain, you will you need to feel comfortable covering some tough terrain.
Valley quail are hunted in the low lying foothills in and around the Klamath Basin. These birds can hold tight in sage brush, flush wildly 20 feet above your head from a Juniper tree or explode thunder like as a covey under the nose of a pointing dog.
These birds are fast and a worthy species to be hunted. Covey size can range from 8 to 50 birds. Valley quail, also known as California Quail, are not big runners. Typically after the initial covey rise there will be a lot of dog work for singles and pairs.
Valley quail typically will hold very tight after the covey is split up. If you want to get a hunt in, you'd be best to book through Roe Outfitters in Klamath Falls. Many of their guests come and hunt both mountain and valley quail during the same 4-5 day hunt.
Alternating by day works well to mix it up. In general they have two hunters with one guide on quail hunts. They can provide the pointer or you are welcome to bring your own dogs. They hunt rain, snow or shine. Dealing with weather is considered a normal part of the hunting experience in Klamath County.
For more information contact www.discoverklamath.com