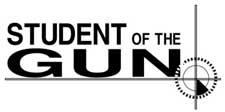 LUVERNE, AL –-(Ammoland.com)- This week we quiet things down a bit and work with three pistols equipped with a silencer / sound suppressor.
The Advanced Armament Co. TiRant silencer is on display as well as guns from S&W, SIG Sauer and Glock.
In the forbidden fruit department we take a look at the Fostech DefendAR stock or what we like to call "Tax Free Class III". Adding the DefendAR to your rifle turns a standard semi-automatic rifle into a Super Semi-Auto!
We're heavy on handguns this week as the take a close look at the Kahr Arms P45 .45ACP pistol. Next we visit with our friends from Ohio 4H Shooting Sports and learn all about their new Action Pistol program. Lastly, we get deadly serious and consider some gear we might use to save a life, our own or someone we love.
StudentoftheGun.com is your 24/7 source for all manner of gun related topics. SOTG offers education and entertainment through on-demand video material, online articles, books, DVD's and live-training events. Student of the Gun; a beginner once, a student for life. www.studentofthegun.com
Paul Markel c 2012
Follow Paul Markel at Student of the Gun.com .